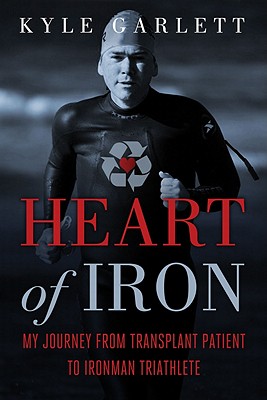 Heart of Iron: My Journey from Transplant Patient to Ironman Triathlete (Hardcover)
My Journey from Transplant Patient to Ironman Triathlete
Chicago Review Press, 9781613740057, 253pp.
Publication Date: November 1, 2011
* Individual store prices may vary.
or
Not Currently Available for Direct Purchase
Description
Throughout his life, Kyle Garlett hated nothing more than losing, and heknewearly on that four diagnoses of cancer could not match his spirit of competition.His appetite forvictory and his love of lifepushed him over his health hurdlesincluding a bone marrow transplant, hip replacement, and heart transplantand into the greatest challenge of his life: the Ironman World Championship.Kyle tells his amazing life story with clear-headed optimism and a winning sense of humor, beginning with his first diagnosis of lymphoma as a teenager and continuingthrough years of chemotherapy that destroyed his joints and weakened his heart. Not just about his health crisis but also about forging a remarkable life around cancer and his career as a sportwriter, the amazing friends and family who supported him, and finding love. After five and half years on the organ transplant waiting list then being gifted with a new heart, Kyle embarks on a challenge of his own making: to compete in the Ironman Triathlon, in which he competed not once but twice.His miraculous recovery and athleticism are recounted, along with the story of how he became an Olympic torch bearer, a devoted Lymphoma & Leukemia Society spokesperson, a motivational speaker, and an author. "Heart of Iron" is an invaluable companion for those affected by cancer and a breathtaking memoir about one man's unstoppable spirit and success against all odds.
About the Author
Kyle Garlett is an author, a motivational speaker, and a freelance sportswriter. He has written for "ESPN The Magazine" and FOXSports.com, and his previous books include "What Were They Thinking?" and "The Worst Call Ever!"He was named the Leukemia & Lymphoma Society s 2011 Man of the Year for Greater Los Angeles."
Praise For Heart of Iron: My Journey from Transplant Patient to Ironman Triathlete…
"Kyle Garlett's journey of overcoming incredible physical, emotional, and psychological battles is a testament to his internal willpower and tenacity. His inspirational story is an absolute must read!"Dave Scott, six-time Ironman world champion

Kyle Garlett is truly the face of courage in the mind-blowing story of survival against all odds. Delivered with humor reminiscent of author Bill Bryson, Kyle takes us on a journey that makes you gasp out loud at what he had to endure physically and mentally year after year, yet also laugh out loud at his approach to it all. This book is hard to put down." Phil Keoghan, founder of No Opportunity Wasted and Emmy Award-winning host of The Amazing Race

If you've heard Kyle speak, you know that he tells the story of his incredibly difficult journey through life with a humorist's touch. His book, Heart of Iron, is no different. It is heartbreaking at times, even tragic. But it is also funny, very inspiring, and ultimately triumphant.  You will feel differently about the joys of life and the strength of the human spirit after reading this story." Chris Klug, five-time World Cup snowboarding champion, three-time Olympian, and liver transplant recipient

Kyle's commitment throughout to the Leukemia & Lymphoma Society and our Team In Training program, both ways to celebrate his own victory over cancer while raising funds and awareness to help others beat cancer, is truly inspiring." John Walter, president and CEO of the Leukemia & Lymphoma Society

"A compassionate celebration of the human spirit that doesn't gloss over tough realities."—Kirkus Reviews

"A truly inspiring story"Booklist
Advertisement