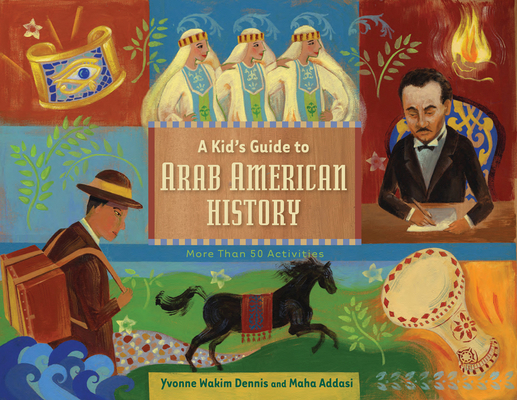 A Kid's Guide to Arab American History: More Than 50 Activities (Paperback)
More Than 50 Activities
Chicago Review Press, 9781613740170, 224pp.
Publication Date: January 1, 2013
Description
Winner of: 2014 Arab American Book Award, Children/Young Adult CategoryMany Americans, educators included, mistakenly believe all Arabs share the same culture, language, and religion, and have only recently begun immigrating to the United States. "A Kid's Guide to Arab American History" dispels these and other stereotypes and provides a contemporary as well as historical look at the people and experiences that have shaped Arab American culture. Each chapter focuses on a different group of Arab Americans including those of Lebanese, Syrian, Palestinian, Jordanian, Egyptian, Iraqi, and Yemeni descent and features more than 50 fun activities that highlight their distinct arts, games, clothing, and food. Kids will love dancing the dabke, constructing a derbekke drum, playing a game of senet, making hummus, creating an arabesque design, and crafting an Egyptian-style cuff bracelet. Along the way they will learn to count in Kurdish, pick up a few Syrian words for family members, learn a Yemeni saying, and speak a little Iraqi. Short biographies of notable Arab Americans, including actor and philanthropist Danny Thomas, singer Paula Abdul, artist Helen Zughaib, and activist Ralph Nader, demonstrate a wide variety of careers and contributions.
About the Author
Yvonne Wakim Dennis is a Cherokee and Syrian author, curriculum developer, social worker, and multicultural consultant. She is the coauthor of the award-winning "A Kid s Guide to Native American History" and "Native Americans Today." Maha Addasi is the author of "The White Nights of Ramadan" and "Time to Pray, "both ALA recommended books." "She has been a freelance writer, news correspondent, television anchor, and radio producer in Amman, Jordan. She earned anMFA in Writing for Children and Young Adults from Vermont College of Fine Arts.

"
Praise For A Kid's Guide to Arab American History: More Than 50 Activities…
"Chock-full of fascinating insights into a vibrant, inspiring community, punctuated by fun (even delicious) activities, this book taught me so much! Every American kid should read it, and every American grown-up, too."  —Cynthia Leitich Smith, author of Jingle Dancer


"[The authors] have woven a rich tapestry of the Arab American experience for young readers. History, achievements, trails blazed, challenges faced, and material and social culture—all of it is rendered accessible through the stories of people and communities, some familiar and others much less well known. Numerous craft activities engage attention and imagination by tapping the senses."  —Uma Krishnaswami, author of The Grand Plan to Fix Everything.


"A Kid's Guide to Arab American History is the ultimate eye-opening introduction to Arab Americans! The authors have skillfully combined informative, engagingly written text with an impressive variety of imaginative crafts and activities from each of the Arab countries, suitable for elementary-age children.  This book is just right for families, schools, and anyone who values the incredible richness of our immigrant American nation."  —Elsa Marston, author of Figs and Fate: Stores About Growing Up in the Arab World Today


"With its focus on interesting hands-on activities and fascinating profiles of notable as well as ordinary Arab Americans, this book will definitely help dispel many negative stereotypes. It's a much-needed resource that highlights the rich and diverse histories, traditions, cultures, and religions of the most dominant Arab American groups in the US. I highly recommend it."  —Jama Rattigan, author of Dumpling Soup


"This book is a delight to read; offering much-needed insights about our neighbors, Americans with Arab roots who have contributed so very much to our society."  —Dr. Jack G. Shaheen, author of Guilty: Hollywood's Verdict on Arabs After 9/11
Advertisement