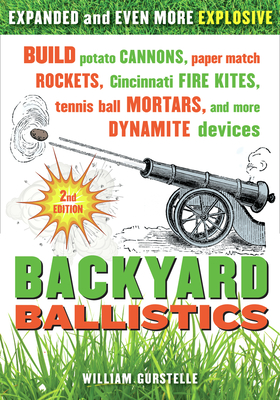 Backyard Ballistics
Build Potato Cannons, Paper Match Rockets, Cincinnati Fire Kites, Tennis Ball Mortars, and More Dynamite Devices
Paperback

* Individual store prices may vary.
Description
This bestselling DIY handbook now features new and expanded projects, enabling ordinary folks to construct 16 awesome ballistic devices in their garage or basement workshops using inexpensive household or hardware store materials and this step-by-step guide. Clear instructions, diagrams, and photographs show how to build projects ranging from the simple match-powered rocket to the more complex tabletop catapult and the offbeat Cincinnati fire kite. The classic potato cannon has a new evil twin—the piezo-electric spud gun and the electromagnetic pipe gun has joined the company of such favorites as the tennis ball mortar. With a strong emphasis on safety, the book also gives tips on troubleshooting, explains the physics behind the projects, and profiles scientists and extraordinary experimenters such as Alfred Nobel, Robert Goddard, and Isaac Newton. This book will be indispensable for the legions of backyard toy-rocket launchers and fireworks fanatics who wish every day was the fourth of July.
Praise For Backyard Ballistics: Build Potato Cannons, Paper Match Rockets, Cincinnati Fire Kites, Tennis Ball Mortars, and More Dynamite Devices…
"Fun and potentially dangerous, this is sure to be a hit at most public libraries. Recommended. Bring your own safety goggles."  —Library Journal
"A great primer for the would-be engineer, and a wonderful chance for bonding among like-minded parents and children . . . Great fun!"  —Courier-Journal
"How is it possible not to love a book with chapter titles like 'Back Porch Rocketry' and 'Greek Fire and the Catapult?' I devoured this prodigious account of all things explosive."  —Homer Hickam, author of Rocket Boys
"Would-be rocketeers, take note: Engineer William Gurstelle has written a book for you."  —Chicago Tribune
"If you want to make a potato soufflé, pick up a book by Julia Child. If you want to decorate your holiday cards with hand-cut potato stamps, look to a Martha Stewart manual. If, however, you'd like to launch a potato in a blazing fireball of combusting hairspray from a PVC pipe, your best source is Backyard Ballistics, by William Gurstelle."  —Time Out New York
"Your inner boy will get a bang out of these 13 devices to build and shoot in your own back yard, some of them noisy enough to legally perk up a 4th of July."  —Dallas Morning News
Chicago Review Press, 9781613740644, 240pp.
Publication Date: September 1, 2012
About the Author
William Gurstelle is the author of Absinthe & Flamethrowers; The Art of the Catapult; Building Bots; The Practical Pyromaniac; Notes from the Technology Underground; and Whoosh, Boom, Splat. He is a professional engineer who has been researching and building model catapults and ballistic devices for more than 30 years and is a contributing editor at Popular Mechanics and Make magazine and writes frequently for Wired, The Rake, and several other national magazines. He lives in Minneapolis, Minnesota.