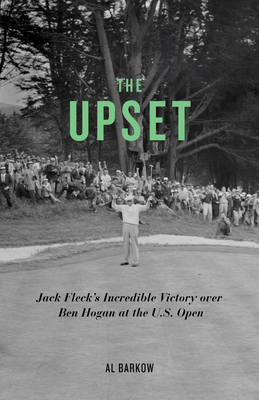 The Upset: Jack Fleck's Incredible Victory Over Ben Hogan at the U.S. Open (Hardcover)
Jack Fleck's Incredible Victory Over Ben Hogan at the U.S. Open
Chicago Review Press, 9781613740750, 240pp.
Publication Date: June 1, 2012
* Individual store prices may vary.
or
Not Currently Available for Direct Purchase
Description
Jack Fleck had the slimmest of resumes as a professional tournament golfer. He had never come close to winning on the PGA Tour, and was in the mere qualifier category when it came time for the 1955 U.S. Open at the Olympic Golf Club in San Francisco. A qualifier, in the parlance, is not even a contender; he just fills out the field. Yet Fleck got himself into a playoff with Ben Hogan, one of the greatest players in golf history, for the game's most prestigious title. And when Fleck defeated Hogan, it was not just surprising, it was incredible. How could a nondescript journeyman pro defeat a golfer who was revered as the ultimate champion golfer? Especially after Hogan had won it four times already? This book presents a thrilling play-by-play, shot-by-shot recounting that brings back to life the look and feel of the entire three days of regular play and, most tellingly, the fourth-day playoff itself. Relying on first-hand sources, "The Upset "reveals the players mental processes as they strategized their game and handled their emotions. And it finally offers a convincing explanation for Fleck's mind-boggling victory, which was considered at the time and remains to this day one of the most unexpected outcomes in all sports history.
About the Author
Al Barkow is a veteran golf reporter, former editor-in-chief of both "Golf" and "Golf Illustrated" magazines, and recipient of the 2005 PGA Lifetime Achievement Award in Journalism.His books include "Sam: The One and Only Sam Snead," "That s Golf: The Best of Al Barkow," "The Golden Era of Golf," "Gene Sarazen and" Shell s Wonderful World of Golf, "Golf s Golden Grind," and "Gettin to the Dance Floor: An Oral History of Professional Golf "(the Herbert Warren Wind Golf Book of the Year, 1986)."
Praise For The Upset: Jack Fleck's Incredible Victory Over Ben Hogan at the U.S. Open…
"Al Barkow knows more about golf than any man alive." —Rick Reilly, author of Who's Your Caddy? and The Life of Reilly


"From Getting to the Dance Floor in '86 to this piece of great non-fiction writing and reporting, Barkow has emerged as the pre-eminent golf historian of the past quarter century." —Tim Rosaforte, GolfWorld and Golf Channel


"Fleck beat Hogan. Fleck beat Hogan? Huh? In the 1955 U.S. Open, no less. That's fact. It's golf history. But the story behind that win! It's never been told in the way Al Barkow tells it [. . .] It's some tale."  —Lorne Rubinstein, author of A Disorderly Compendium of Golf and A Season in Dornoch


"Al Barkow, golf's leading historian and storyteller, unfolds the improbable Ben Hogan–Jack Fleck tale, and the results are as wondrous as the golf itself. Al knows exactly what we really want to know and he gives it to us with rich detail and a light, sure touch. Nobody evokes time and place in golf like Al Barkow." —Peter Kessler, host of Making the Turn on the PGA Tour Network, Sirius XM


 "If Al Barkow hit the golf ball as straight as he writes about the game he'd be playing the Tour." —Lee Trevino


"Golf is rarely more delicious than when a hero and an underdog square off. In his thorough and engaging account of the 1955 U.S. Open, Al Barkow skillfully dissects the showdown between Ben Hogan and Jack Fleck, delving deeply not only into the play but the personalities of the two men, which were as different as their stations in the sport when they arrived at Olympic that fateful week." —Bill Fields, GolfWorld
Advertisement