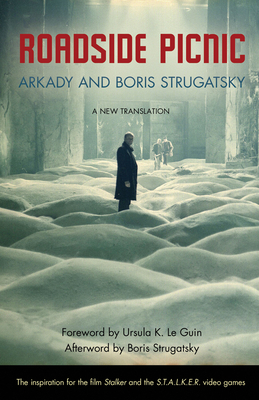 Roadside Picnic (Rediscovered Classics #16)
Paperback

* Individual store prices may vary.
Other Editions of This Title:
Digital Audiobook (10/14/2012)
Description
Red Schuhart is a stalker, one of those young rebels who are compelled, in spite of extreme danger, to venture illegally into the Zone to collect the mysterious artifacts that the alien visitors left scattered around. His life is dominated by the place and the thriving black market in the alien products. But when he and his friend Kirill go into the Zone together to pick up a "full empty," something goes wrong. And the news he gets from his girlfriend upon his return makes it inevitable that he'll keep going back to the Zone, again and again, until he finds the answer to all his problems.
First published in 1972, Roadside Picnic is still widely regarded as one of the greatest science fiction novels, despite the fact that it has been out of print in the United States for almost thirty years. This authoritative new translation corrects many errors and omissions and has been supplemented with a foreword by Ursula K. Le Guin and a new afterword by Boris Strugatsky explaining the strange history of the novel's publication in Russia.
Praise For Roadside Picnic (Rediscovered Classics #16)…
"[A] vivid new translation... it has survived triumphantly as a classic." —Publishers Weekly

"The story is carried out with a controlled fierceness that doesn't waver for a minute."  —Kirkus Reviews

"Brilliantly and beautifully written . . . a truly superb work of science fiction."  —Infinity Plus

"Lively, racy, and likable . . . complex in event, imaginative in detail, ethically and intellectually sophisticated." —Ursula K. Le Guin

"Amazing. . . . The Strugatskys' deft and supple handling of loyalty and greed, of friendship and love, of despair and frustration and loneliness [produces] a truly superb tale. . . . You won't forget it."  —Theodore Sturgeon

"No doubt: a powerful, classic work of science fiction. Certainly recommended."  —The Complete Review 

"If you're going to read just one Soviet-era Russian science fiction novel, it should be Arkady and Boris Strugatsky's dark, ambiguous Roadside Picnic." —io9
 

"The Strugatskys' worldview remains both uniquely cutting and replete with humanity . . . The characters' conflicted views of their troubled world make for a read that still feels fresh today. It's also a book that's bound to make you feel a little less sure of humanity's place in the universe."  —Discover   

"Go read Roadside Picnic. It's a phenomenal book." —SF Signal

"[T]his is a fantastic book. One of my favorite recommendations of the year." —Boing Boing
Chicago Review Press, 9781613743416, 224pp.
Publication Date: May 1, 2012
About the Author
Arkady and Boris Strugatsky are the most famous and popular Russian writers of science fiction, and the authors of over 25 novels and novellas. Their books have been widely translated and have been made into a number of films. Arkady Strugatsky died in 1991. Boris Strugatsky died in November 2012. Ursula K. Le Guin is the author of A Wizard of Earthsea, The Left Hand of Darkness, and other science-fiction classics.