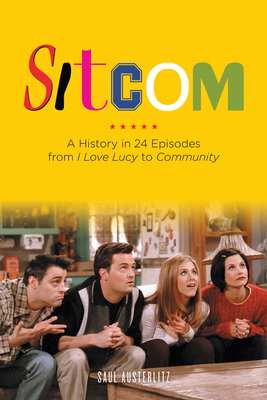 Sitcom (Paperback)
A History in 24 Episodes from I Love Lucy to Community
Chicago Review Press, 9781613743843, 416pp.
Publication Date: March 1, 2014
* Individual store prices may vary.
Description
The form is so elemental, so basic, that we have difficulty imagining a time before it existed: a single set, fixed cameras, canned laughter, zany sidekicks, quirky family antics. Obsessively watched and critically ignored, sitcoms were a distraction, a gentle lullaby of a kinder, gentler America—until suddenly the artificial boundary between the world and television entertainment collapsed.
            In this book we can watch the growth of the sitcom, following the path that leads from Lucy to The Phil Silvers Show; from The Dick Van Dyke Show to The Mary Tyler Moore Show; from M*A*S*H to Taxi; from Cheers to Roseanne; from Seinfeld to Curb Your Enthusiasm; and from The Larry Sanders Show to 30 Rock.
            In twenty-four episodes, Sitcom surveys the history of the form, and functions as both a TV mixtape of fondly remembered shows that will guide us to notable series and larger trends, and a carefully curated guided tour through the history of one of our most treasured art forms. 
About the Author
Saul Austerlitz is the author of Another Fine Mess: A History of the American Film Comedy, named by Booklist as one of the ten best arts books of 2010, and Money for Nothing: A History of the Music Video from the Beatles to the White Stripes. His work has been published in the New York Times, the Los Angeles Times, the Boston Globe, Slate, and elsewhere.
Praise For Sitcom: A History in 24 Episodes from I Love Lucy to Community…
"Astute and bursting with information—an entertaining treat for sitcom fans and a valuable contribution to TV history." —
Kirkus Reviews
"A compulsively readable and often laugh-out-loud funny study of the American sitcom." —Starred review,
Library Journal
"[...] Austerlitz ingeniously and persuasively uses the genre of situation comedy as an American Rosetta stone, showing it to be capable of decoding itself (thanks to its endless self-references) and of making intelligible an entire social archaeology, [...]  Bottomless in its depth of research but as light in touch as the best of its subjects, Sitcom belongs in any home that has a sofa and a TV set." —Stuart Klawans, the Nation


"[Austerliz] is capable of delightfully mischievous prose." —The New Republic
"[A] smart new book" —The New Yorker
"Austerlitz writes with a direct and punchy style… that makes for compelling reading." —Paste