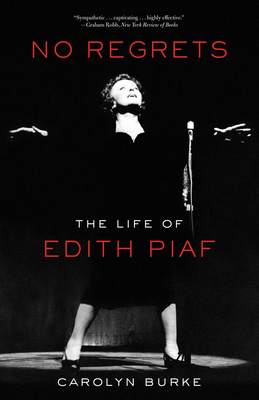 No Regrets (Paperback)
The Life of Edith Piaf
Chicago Review Press, 9781613743928, 304pp.
Publication Date: April 1, 2012
Other Editions of This Title:
Hardcover (3/22/2011)
Paperback (3/1/2012)
Hardcover (4/1/2011)
* Individual store prices may vary.
Description
The iconic French singer comes to life in this biography, which captures Edith Piaf's immense charisma along with the time and place that gave rise to her international career. Raised by turns in a brothel, a circus caravan, and a working-class Parisian neighborhood, Piaf began singing on the city's streets, where she was discovered by a Champs Elysées cabaret owner. She became a star almost overnight, seducing all of Paris with her passionate voice, and No Regrets explores her meteoric rise; her tumultuous love affairs; and her struggles with drugs, alcohol, and illness. Piaf was an unlikely student of poetry and philosophy who aided Resistance efforts in World War II, wrote the lyrics for nearly 100 songs, including "La vie en rose," and was a crucial mentor to younger singers such as Yves Montand and Charles Aznavour. Burke demonstrates how, with her courage, her incomparable art, and her universal appeal, "the little sparrow" endures as a symbol of France and a source of inspiration to entertainers the world over.
About the Author
Carolyn Burke is the author of "Becoming Modern: The Life of Mina Loy" and "Lee Miller: A Life." She lives in Santa Cruz, California.
Praise For No Regrets: The Life of Edith Piaf…
"A definitive, thoroughly researched biography. . . . [Burke] deftly depicts the destiny of Piaf from her birth to her tragic death at age 47. . . . No Regrets is exhaustively comprehensive; Burke spoke with just about everyone who knew, admired or loved Piaf."  —Miami Herald
"Burke proves that the 'feral' Piaf's 'short, wayward life' was more complicated and intriguing than [the] familiar narrative arc might suggest. . . . [No Regrets] fills in the blanks of a life that most readers will only have previously glimpsed in broad strokes. . . . [A] precise . . . thorough biography."  —Columbus Dispatch
"Burke's terrific biography of Edith Piaf shucks the simplistic arc of self-destructive urchin to a more complex portrait that includes the singer's heroics in the French Resistance and roles as mentor, lyricist, and enduring icon."  —Marie Claire
"Concise and gracefully written. . . . Burke is meticulous . . . [she] surveys all [Piaf's] mayhem with thoughtfulness and respect."  —James Gavin, New York Times Book Review
"Sympathetic . . . captivating . . . highly effective."  —Graham Robb, New York Review of Books
"A perceptive, supportive, even definitive biography by seasoned biographer Burke, who had access to previously untapped Piaf documents. . . . A compelling life story."  —Booklist
"[An] eloquent embrace of the famed French singer-songwriter. . . . As Burke links the singer's lyrics and life in this evocative portrait, raw emotions emerge, etched with Piaf's 'poignant mix of vulnerability and defiance.'"  —Publishers Weekly
"[A] sharp, culturally resonant biography . . . an empathetic depiction of the French chanteuse, as famed for her love affairs as for songs like 'La vie en rose.' . . . Though Piaf ruined her health and died young, this lucid, unsentimental appraisal suggests that she had the life she wanted, filled with 'hectic drama' fueled by the singer's 'boundless joie de vivre.'"  —Kirkus Reviews