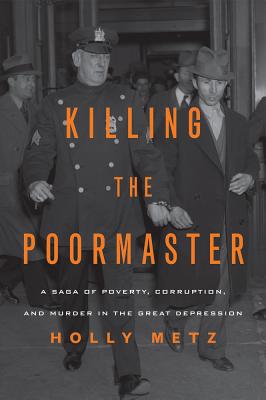 Killing the Poormaster: A Saga of Poverty, Corruption, and Murder in the Great Depression (Hardcover)
A Saga of Poverty, Corruption, and Murder in the Great Depression
Chicago Review Press, 9781613744185, 308pp.
Publication Date: October 1, 2012
* Individual store prices may vary.
or
Not Currently Available for Direct Purchase
Description
On February 25, 1938, in the early days of the welfare system, the reviled poormaster Harry Barck wielding power over who would receive public aid died from a paper spike thrust into his heart. Barck was murdered, the prosecution would assert, by an unemployed mason named Joe Scutellaro. In denying Scutellaro money, Barck had suggested the man's wife prostitute herself on the streets rather than ask the city of Hoboken, New Jersey, for aid. The men scuffled. Scutellaro insisted that Barck fell on his spike; the police claimed he grabbed the spike and stabbed Barck. News of the poormaster's death brought national attention to the plight of ten million unemployed living in desperate circumstances. A team led by celebrated attorney Samuel Leibowitz of Scottsboro Boys fame worked to save Scutellaro from the electric chair, arguing that the jobless man's struggle with the poormaster was a symbol of larger social ills. The trial became an indictment of a system which expects a man to live, in this great democracy, under such shameful circumstances. We live in a time where the issues examined in "Killing the Poormaster" massive unemployment, endemic poverty, and the inadequacy of public assistance remain vital. With its insight into our social contract, "Killing the Poormaster" reads like today's news.
About the Author
Holly Metz is a writer and journalist on law, culture, and social issues. She is the coauthor of "How to Commit Suicide in South Africa." She has contributed to "Democracy in Print: The Best of the Progressive Magazine" as well as "Labor History," "Metropolis," the "New York Times," "Poets & Writers Magazine," " "and the American Bar Association publication, "Student Lawyer." For her work as a journalist and a public historian, she has been recognized by the Dick Goldensohn Fund, the New Jersey Historical Commission, and Project Censored.
Advertisement