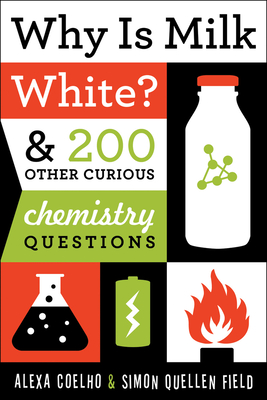 Why Is Milk White? (Paperback)
& 200 Other Curious Chemistry Questions
Chicago Review Press, 9781613744529, 288pp.
Publication Date: January 1, 2013
* Individual store prices may vary.
Description
Covering a wide variety of everyday chemistry concepts from the very simple to the more complex, this question-and-answer primer provides straightforward, easy-to-understand explanations for inquisitive young scientists' questions. A dozen unique experiments to try at home—from lifting latent fingerprints from a "crime scene" using super glue (for smooth surfaces) or iodine (for paper) to hollowing out the zinc interior of a penny using muriatic acid—are interspersed with the answers to such questions as What makes soda so fizzy? and Why do you get cavities when you eat too much sugar? From separating food coloring into its component dyes to using easy-to-find chemicals to create "slime," Silly Putty, or bouncing balls, this handy guide is the ideal resource for the budding chemist.
About the Author
Alexa Coelho is a curious teenager who asks a lot of chemistry questions. Simon Quellen Field is the author of Culinary Reactions, Gonzo Gizmos, and Why There's Antifreeze in Your Toothpaste and the creator of the popular website www.scitoys.com. They both live in Los Gatos, California.
Praise For Why Is Milk White?: & 200 Other Curious Chemistry Questions…
"Many of Coelho's questions are things that other adolescents (and adults) may have wondered, and here they are answered by a knowledgeable scientist who gives readers all the tools they may need to understand the complex chemistry of the everyday world."  —Booklist
"Just the book to inspire the budding chemist, or simply entertain, while teaching, the rest of us."—The Pioneer Woman