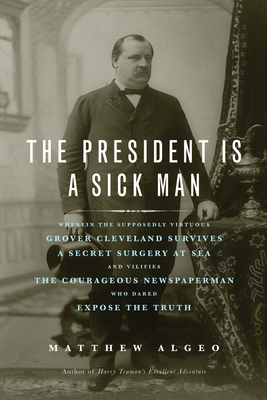 The President Is a Sick Man
Wherein the Supposedly Virtuous Grover Cleveland Survives a Secret Surgery at Sea and Vilifies the Courageous Newspaperman Who Dared Expose the Truth
Paperback

* Individual store prices may vary.
Description
An extraordinary yet almost unknown chapter in American history is revealed in this extensively researched exposé. On July 1, 1893, President Grover Cleveland boarded a friend's yacht and was not heard from for five days. During that time, a team of doctors removed a cancerous tumor from the president's palate along with much of his upper jaw. When an enterprising reporter named E. J. Edwards exposed the secret operation, Cleveland denied it and Edwards was consequently dismissed as a disgrace to journalism. Twenty-four years later, one of the president's doctors finally revealed the incredible truth, but many Americans simply would not believe it. After all, Grover Cleveland's political career was built upon honesty—his most memorable quote was "Tell the truth"—so it was nearly impossible to believe he was involved in such a brazen cover-up. This is the first full account of the disappearance of Grover Cleveland during that summer more than a century ago.
Praise For The President Is a Sick Man: Wherein the Supposedly Virtuous Grover Cleveland Survives a Secret Surgery at Sea and Vilifies the Courageous Newspaperman Who Dared Expose the Truth…
"[A] breezy, enjoyable book."  —Washington Post


"One of the best non-fiction books of 2011."  —PopMatters.com


"Algeo writes entertainingly, but the themes he develops are serious ones, well worth the attention of serious readers."  —History Book Club


"A lively, cautionary tale—and one with a lesson for leaders that recalls Cleveland's own words of wisdom: Tell the truth."  —Wall Street Journal


"Author Matthew Algeo takes a little known part of presidential history and creates a page-turning ride."  —Associated Press

"Algeo paints a colorful portrait of political intrigue and journalism during the Gilded Age."  —Publishers Weekly
Chicago Review Press, 9781613744567, 272pp.
Publication Date: September 1, 2012
About the Author
Matthew Algeo is an award-winning journalist who has reported from three continents for public radio's All Things Considered, Marketplace, and Morning Edition. He is the author of Harry Truman's Excellent Adventure and Last Team Standing. He lives in Washington, DC.