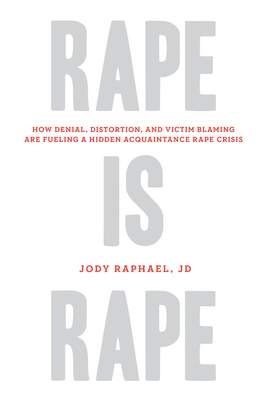 Rape Is Rape (Paperback)
How Denial, Distortion, and Victim Blaming Are Fueling a Hidden Acquaintance Rape Crisis
Chicago Review Press, 9781613744796, 256pp.
Publication Date: April 1, 2013
* Individual store prices may vary.
Description
"More than half of women and girls lie about rape . . ." "Feminists exaggerate rape prevalence to demonize men and raise money for their cause . . ." "Girls cry 'rape' when it's nothing more than regret over bad sex . . ." Such emotionally charged false accusations have convinced much of the general public and the media that acquaintance rape is a figment of the imagination. As author Jody Raphael reveals in Rape Is Rape, the more acquaintance rape is reported and taken seriously by prosecutors, judges, and juries, the louder the clamor of rape denial becomes.
Through firsthand interviews with victims, medical and judicial records, social media analysis, and statistics from government agencies, Rape Is Rape exposes the tactics used by the deniers, a group that includes conservatives and right-wing Christians as well as some controversial feminists. The personal stories of young acquaintance rape victims whom Raphael interviewed demonstrate how assaults on their credibility, buttressed by claims of low prevalence, prevent many from holding their rapists accountable, enabling them to rape others with impunity. Rape Is Rape is an exposé of those using rape denial to further their political agendas, and it is a call to action to protect the rights of women and girls, making it safe for victims to come forward, and end the acquaintance rape crisis. A resources section is included for those seeking help, advice, or hoping to get involved.
About the Author
Jody Raphael, JD, is an attorney and a nationally known researcher, lecturer, and advocate on issues of violence against women. She is the author of Freeing Tammy: Women, Drugs, and Incarceration; Listening to Olivia: Violence, Poverty, and Prostitution; and Saving Bernice: Battered Women, Welfare, and Poverty.
Praise For Rape Is Rape: How Denial, Distortion, and Victim Blaming Are Fueling a Hidden Acquaintance Rape Crisis…
"[A] meticulously researched and passionately argued rebuttal of those who would deny the reality and alarming prevalence of acquaintance rape." —
Kirkus Reviews
"A compelling, grim account of the struggle for victims of sexual violence to be heard and believed." —
Publishers Weekly
"Must reading for anyone wishing to understand how something as abhorrent as rape can ever be denied." —
Military Review
"[Raphael's] eye-opening exposé shows how Americans, including some high profile feminists, ignore or underestimate the devastating nature of this form of assault." —Ms.
"[A] very important read about rape culture, rape deniers and recent rape cases. A must-read for all." —Entertainment Realm, blog
"This book would be timely no matter when it was published." —Colorado Springs Independent
"This book shocked, provoked, educated and is certainly one of the most profound and important books I have read this year." —Tweedle Dee and Tweedle Dave
"What makes all of Raphael's books special is that she focuses each one on one individual, but includes the research findings about the topics covered, letting readers know how typical her cases are, and what social scientists know about the entire subject discussed."  —Sexual Assault Report (for Listening to Olivia: Violence, Poverty, and Prostitution)

"A powerful account of the ways in which rape deniers reject the impact of and commonality of acquaintance rape." —Metapsychology Online Reviews