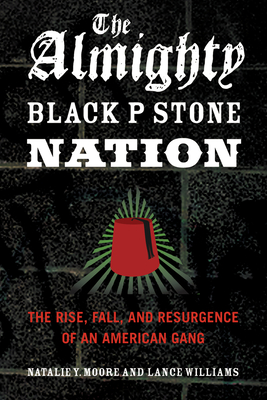 The Almighty Black P Stone Nation (Paperback)
The Rise, Fall, and Resurgence of an American Gang
Chicago Review Press, 9781613744918, 304pp.
Publication Date: September 1, 2012
Other Editions of This Title:
Hardcover (1/6/2011)
* Individual store prices may vary.
Description
This exposé investigates the evolution of the Almighty Black P Stone Nation, a motley group of poverty-stricken teens transformed into a dominant gang accused of terroristic intentions. Interwoven into the narrative is the dynamic influence of leader Jeff Fort, who—despite his flamboyance and high visibility—instilled a rigid structure and discipline that afforded the young men a refuge and a sense of purpose in an often hopeless community. Details of how the Nation procured government funding for gang-related projects during the War on Poverty era and fueled bonuses and job security for law enforcement, and how Fort, in particular, masterminded a deal for $2.5 million to commit acts of terrorism in the United States on behalf of Libya are also revealed. In examining whether the Black P Stone Nation was a group of criminals, brainwashed terrorists, victims of their circumstances, or champions of social change, this social history provides both an exploration of how and why gangs flourish and insight into the way in which minority crime is targeted in the community, reported in the media, and prosecuted in the courts.
About the Author
Natalie Y. Moore is an author and a journalist who reports on issues of race and community for Chicago Public Radio. Her work has appeared in publications such as "Bitch," "Black Enterprise," the "Chicago Reporter," the "Chicago Sun-Times," the "Chicago Tribune," " Essence," and "In These Times." She is coauthor of "Deconstructing Tyrone: A New Look at Black Masculinity in the Hip-Hop Generation." Lance Williams is an educator, an inner-city youth advocate and activist, and the son of a former Vice Lords member. He is a founder and a chairman of the board of the Know Thyself Program, a community-based organization providing cultural- and social-enrichment programs for youth in schools; a principal investigator of CeaseFire, an antiviolence initiative in Chicago; a board member of the Diversifying Higher Education Faculty in Illinois program; and a member of the executive committee of the Governor s Statewide Community Safety and Reentry Working Group. They both live in Chicago."
Praise For The Almighty Black P Stone Nation: The Rise, Fall, and Resurgence of an American Gang…
"Moore and Williams demystify the gang—and bring out the quirks of charismatic founder Jeff Fort—in this well-researched book that digs out the truth, finds the humanity in urban legend and shows how church, state and community together created the most powerful, and contradictory, of street organizations."  —
Ebony
(April 2011)
"A rigorous mixture of scholarship and journalism that is rendered with a contextual empathy that's rare in other literature on street gangs." —Salim Muwakkil, senior editor,
In These Times
, and host of
The Salim Muwakkil Show
, WVON, Chicago
"A provocative tale."  —
Chicago Citizen
"Filled with amazing and little known details and framed within Chicago African American history. The best and most accurate book on a contemporary Chicago gang ever written."  —John Hagedorn, author,
People & Folks: Gangs, Crime, and the Underclass in a Rustbelt City
"A stunning book."  —
StreetWise
(March 2, 2011)
"A must-read for anyone interested in the history of Chicago."  —Chicago Crusader

"A powerful exposé of disturbing realities underlying enduringly misunderstood urban legends." —Kirkus Reviews


"A valuable addition to a serious library about crime, shedding light on the overlooked world of black Chicago gangs."  —
Foxhill Review