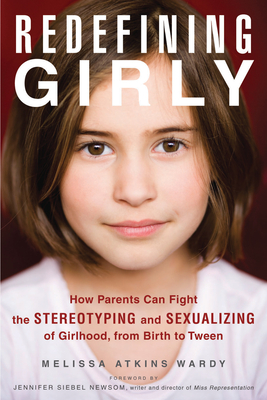 Redefining Girly
How Parents Can Fight the Stereotyping and Sexualizing of Girlhood, from Birth to Tween
Paperback

* Individual store prices may vary.
Description
Named one of Publishers Weekly's Best Books of 2014
All-pink aisles in toy stores, popular dolls that resemble pole dancers, ultra sexy Halloween costumes in tween sizes. Many parents are increasingly dismayed at how today's media, marketers, and manufacturers are sexualizing and stereotyping ever-younger girls but feel powerless to do much about it. Mother of two Melissa Atkins Wardy channeled her feelings of frustration into activism—creating T-shirts with girl-positive messages; blogging and swapping parenting strategies with other concerned families; writing letters to corporate offenders; organizing petitions; and raising awareness through parent workshops and social media.
            Now, in Redefining Girly, Wardy shares her hands-on parenting and activism strategies with others dedicated to raising a confident and healthy girl in today's climate. She provides specific advice and sample conversations for getting family, friends, educators, and health care providers on your side; getting kids to think critically about sexed-up toys and clothes; talking to girls about body image; and much more. She provides tips for creating a home free of gender stereotypes; using your voice and consumer power to fight the companies perpetuating them; and taking the reins to limit, challenge, and change harmful media and products.
Praise For Redefining Girly: How Parents Can Fight the Stereotyping and Sexualizing of Girlhood, from Birth to Tween…
"Melissa Wardy's book reads like a conversation with a smart, wise, funny friend; one who dispenses fabulous advice on raising a strong, healthy, full-of-awesome girl."  —Peggy Orenstein, author, Cinderella Ate My Daughter

"This eye-opening tome is an absolute must-read." —Starred review, Publishers Weekly

"Taking on the media's widespread stereotyping and sexualization of children—particularly girls—advocate Wardy offers a thoughtful, comprehensive guide to raising healthy, happy, confident children. She includes a savvy take on the consequences of "princess culture," along with suggestions for gender-neutral toys, clothing, and parenting." —Publishers Weekly, Best Books of 2014


"With this book in hand, I no longer feel alone in my quest to raise girls who see a world full of potential. If you seek direction for raising a self-confident child, let this book be your compass." —Samantha Ettus, Forbes contributor and founder of Working Moms Lifestyle


"Redefining Girly is a bold and essential contribution to the discussion about today's 'too fast, too soon' girl culture. Wardy applies the latest research on media literacy, sexualization, and marketing to everyday situations parents face and provides practical strategies they can enact right now to raise strong, caring, confident daughters and to change a culture that devalues them." —Michele Borba, Ed.D., author of The Big Book of Parenting Solutions

"If you have a girl, or are a teacher, you should absolutely read this book." —Coming of Age in the Middle

"Melissa Atkins Wardy writes with incredible insight, respect and honesty." —The Tribune (Greeley, CO)

"Redefining Girly is as interesting as it is educational, and Wardy provides parents with an easy, at times step by step guide on how best to respond to various scenarios relating to girlhood." —Metapsychology.net

"Grounded in her own experiences as a mother and activist, Melissa Atkins Wardy offers honest and clear strategies to help girls define and decide what being a girl means to them. This is a vital guide for supporting girls as they navigate the rising tide of gender stereotyping." —Deborah L. Tolman, professor of social welfare and psychology, Hunter College School of Social Work and the Graduate Center, CUNY, and cofounder, SPARK
Chicago Review Press, 9781613745526, 256pp.
Publication Date: January 1, 2014
About the Author
Melissa Atkins Wardy is the founder of Pigtail Pals & Ballcap Buddies, a company that sells empowering and inspirational children's apparel and products, and runs a blog of the same name focused on gender stereotypes and sexualization in childhood. Wardy discusses these issues facing families with thousands of parents using social media and workshops. She is also the cofounder of The Brave Girls Alliance, a gender equality think tank and advocacy group dedicated to communicating with and influencing media, corporations, and retailers.
She has appeared on CNN and FOX News and in the Boston Globe, New York Daily News, Huffington Post, and the Ms. Magazine blog, which have featured her work and her campaigns against national brands and retailers that resulted in the removal of sexist ads and products.
or
Not Currently Available for Direct Purchase