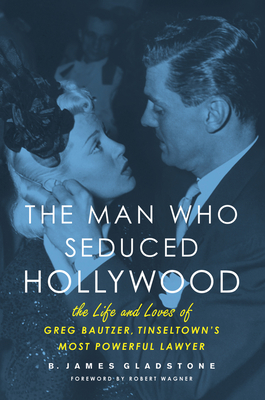 The Man Who Seduced Hollywood (Hardcover)
The Life and Loves of Greg Bautzer, Tinseltown's Most Powerful Lawyer
Chicago Review Press, 9781613745793, 352pp.
Publication Date: May 1, 2013
Other Editions of This Title:
Paperback (9/1/2014)
* Individual store prices may vary.
Description
Open any movie magazine from the 1930s, '40s, or '50s and you'll find a picture of attorney Greg Bautzer with a beautiful starlet. Columnists dubbed him "Hollywood Bachelor Number One," and for good reason. His long-term relationships and momentary conquests were a who's who of leading ladies, including Joan Crawford, Lana Turner, Ginger Rogers, Ava Gardner, Rita Hayworth, Jane Wyman, Dorothy Lamour, Ann Sothern, Greer Garson, Merle Oberon, and Peggy Lee, to name just a few.
Yet Bautzer was more than a Hollywood Don Juan. As a lawyer, he represented nearly every major star of his era, as well as the richest man in the world, Howard Hughes, for whom he served as adviser, confidant, and best friend. He also handled Hughes's shadier deals, including writing checks for a harem of kept women and quashing potentially embarrassing tell-all biographies.
In Hollywood history, no other lawyer has achieved the movie star–like fame and glamour that Bautzer enjoyed. The Man Who Seduced Hollywood tells, for the first time, the amazing story of a self-made man who for fifty years used his irresistible charm and prodigious legal talent to dominate the courtrooms, boardrooms, and bedrooms of Hollywood.
In addition to new stories about Hughes, this biography contains countless anecdotes about Bautzer's other well-known clients and friends including Joan Crawford, Frank Sinatra, Ingrid Bergman, Rock Hudson, Bugsy Siegel, Robert Evans, Kirk Kerkorian and many more of the twentieth century's biggest stars.
About the Author
B. James Gladstone is the executive vice president of business and legal affairs for Lionsgate Entertainment. He previously served as in-house counsel for Artisan Entertainment and worked in production and marketing at Vestron Pictures before becoming a lawyer.
Praise For The Man Who Seduced Hollywood: The Life and Loves of Greg Bautzer, Tinseltown's Most Powerful Lawyer…
"It's been said, accurately I believe, that lawyers really run Hollywood—from papering the deals to preserving the myths of their celebrity clients. Many have tried, but few have plied that trade with the skills and panache of Tinseltown's original legal Lothario, Greg Bautzer. There's another expression: it takes one to know one—and boy does Hollywood attorney-turned-author James Gladstone know Bautzer. In
The Man Who Seduced Hollywood
, Gladstone combines meticulous research with a breezy writing style that Bautzer himself would have loved. Lana, Ginger, Rita, Ava, they're all here, and they were all enthralled by Bautzer. If you miss the golden age of Hollywood—before the Kardashians, Hiltons, and Lohans usurped it—you won't put this book down, as you read about how that once glamorous world danced to the tune of Gregson Bautzer, Esq." —
Gus Russo, author of Supermob and The Outfit
"Greg Bautzer was the ultimate Hollywood Insider, swashbuckling attorney, legendary dealmaker, ladies man without peer. Powerful, glamorous, fearless--he stood up to Bugsy Siegel and Joan Crawford--Bautzer made the moguls tremble and the starlets and movie queens quiver. Jim Gladstone's The Man Who Seduced Hollywood, a never-before-told story, is fascinating, startling, impeccably researched and irresistibly entertaining." —Lee Server, author of Ava Gardner: Love is Nothing


"James Gladstone breathes life into the legendary swordsman, revealing the secrets of his romances, as well his talents as a consigliere to men such as Howard Hughes, Robert Evans, and Kirk Kerkorian. Lovingly researched, thoroughly enjoyable." —John Buntin, author of L.A. Noir: The Struggle for the Soul of America's Most Seductive City


"In his time, there was no more famous a lothario or as charismatic a ladies man or power player in Hollywood than lawyer Greg Bautzer. The instant I met him I understood why: he was dashing, charming, and pulled you into his orbit before you realized you'd been snagged. James Gladstone's biography is the first to tell his story, and it's filled with the kind of juicy inside information about everyone from Lana Turner to Ingrid Bergman and beyond that makes for a very lively, satisfying read." —Robert Osborne, Hollywood historian and host of Turner Classic Movies
"As Gladstone tells it in this unusual take on Hollywood's golden age, Bautzer cultivated an image as a dashing, eligible bachelor, an image designed to gain him maximum exposure in the high-flying circles where he hoped to find clients … In his time, he was as famous, as widely photographed, and as talked-about as many big-name celebrities. This is a very good book about a very famous man who is now, sadly, almost entirely forgotten."—
Booklist
"The Man Who Seduced Hollywood is the rare movie industry tome that combines juicy gossip with a look at the real business machinations of the dream factories in their prime."— Connecticut Post online
"A fascinating new biography … Sex, glamour and big business is revealed amusingly and intelligently in The Man Who Seduced Hollywood."—gossip writer Liz Smith for the New York Social Diary
"[Author B. James] Gladstone has told [Bautzer's] story well." —Palm Beach Post
or
Not Currently Available for Direct Purchase