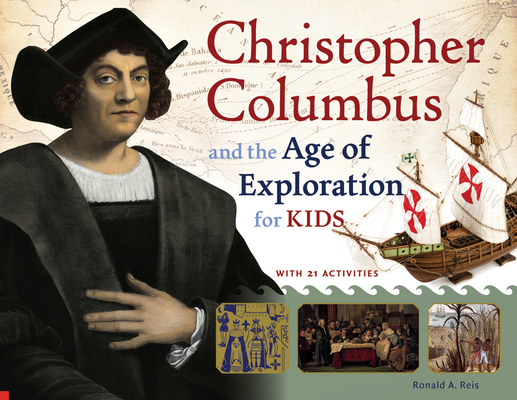 Christopher Columbus and the Age of Exploration for Kids (Paperback)
With 21 Activities (For Kids series)
Chicago Review Press, 9781613746745, 160pp.
Publication Date: October 1, 2013
* Individual store prices may vary.
Description
An NCSS Notable Social Studies Trade Book for Young People

Christopher Columbus is one of the most famous people in world history, yet few know the full story of the amazing, resourceful, and tragic Italian explorer. Christopher Columbus and the Age of Exploration for Kids portrays the "Admiral of the Ocean Seas" neither as hero nor heel but as a flawed and complex man whose significance is undeniably monumental. Kids will gain a fuller picture of the seafarer's life, his impact, and the dangers and thrills of exploration as they learn about all four of Columbus's voyages to the New World, not just his first, as well as the year that Columbus spent stranded on the island of Jamaica without hope of rescue. Students, parents, and teachers will appreciate the in-depth discussions of the indigenous peoples of the New World and of the consequences of Columbus's voyages—the exchange of diseases, ideas, crops, and populations between the New World and the Old. Fun hands-on activities illuminate both the nautical concepts introduced and the times in which Columbus lived. Kids can:
Tie nautical knots

Conduct a blanket (silent) trade

Make a compass

Simulate a hurricane

Take nautical measurements

And much more
About the Author
Ronald A. Reis is the author of numerous biographies for young adults, including the Spur Award–winning Buffalo Bill Cody.

Praise For Christopher Columbus and the Age of Exploration for Kids: With 21 Activities (For Kids series)…
"This book...offer[s] a straightforward glimpse into the life and times of Columbus with a narrative that does not shy away from more unsettling aspects of his life...Reis puts the explorer in context with a thorough look at motivations for exploration and scientific beliefs of the time." —
Booklist
"[
Christopher Columbus and the Age of Exploration for Kids
] marks an important part of our history with fascinating details, fun history and beautiful art and maps...This book is great for elementary kids, and little ones will enjoy the pictures and activities." —Kristen Kemp, Parents.com
"A brilliantly illustrated and well laid out account...I highly recommend it!" —Luxury Reading