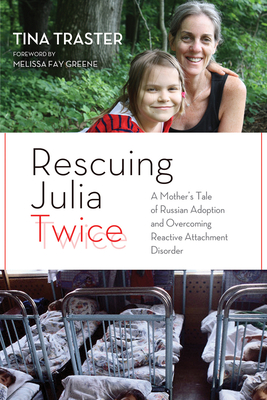 Rescuing Julia Twice
A Mother's Tale of Russian Adoption and Overcoming Reactive Attachment Disorder
Hardcover

* Individual store prices may vary.
Other Editions of This Title:
Paperback (10/1/2017)
Description
2015 IPPY Award Silver Medalist in the Parenting Category
In moving and refreshingly candid prose, Rescuing Julia Twice tells Traster's foreign-adoption story, from dealing with the bleak landscape and inscrutable adoption handlers in Siberia, to her feelings of inexperience and ambivalence at being a new mother in her early forties, to her grow­ing realization over months then years that something was "not quite right" with her daughter, Julia, who remained cold and emo­tionally detached. Why wouldn't she look her parents in the eye or accept their embraces? Why didn't she cry when she got hurt? Why didn't she make friends at school? Traster de­scribes how uncertainty turned to despair as she blamed herself and her mothering skills for her daughter's troublesome behavioral is­sues, until she came to understand that Julia suffered from reactive attachment disorder, a serious condition associated with infants and young children who have been neglect­ed, abused, or orphaned in infancy.
Hoping to help lift the veil of secrecy and shame that too often surrounds parents struggling with attachment issues, Traster describes how with work, commitment, and acceptance, she and her husband have been able to close the gulf between them and their daughter to form a loving bond, and concludes by providing practical advice, strategies, and resources for parents and caregivers.
Praise For Rescuing Julia Twice: A Mother's Tale of Russian Adoption and Overcoming Reactive Attachment Disorder…
"[N]othing short of stunning. This book will stay with you long after you close the cover."  —Lori Holden, author, The Open-Hearted Way to Open Adoption
"Many adoption memoirs detail the journey that brings parent and child together . . . and end with a loving, triumphant homecoming. Fewer follow the story years down the road, as parents and child knit themselves into a family. Traster holds nothing back in recounting that second journey, to truly become her child's mother."  —Eve Gilman, editor, Adoptive Families Magazine


"If you are an adoptive parent, don't miss this book."  —Jane Ballback, publisher and executive editor, Adoption Voices Magazine


"Tina Traster takes us on her roller-coaster ride of becoming an adoptive mother . . . . Many will read this mother's journey of breaking through her daughter's protective shell with strong, deliberate parenting, and they'll know that they are not alone."  —Julie Beem, executive director, Attachment & Trauma Network, Inc.

"Like Jessie Hogsett's helpful Detached, this title is indispensable for adoptive parents, relatives, and teachers." —Library Journal


"Traster's memoir is simultaneously unnerving and inspirational. The adoption world—and everyone surrounding it (meaning everyone)—needs to better understand the realities that affect so many children being adopted from orphanages today. The timing of this starkly honest book could not be better." —Adam Pertman, president, The Donaldson Adoption Institute, and author of Adoption Nation: How the Adoption Revolution Is Transforming Our Families—and America
"A riveting story that takes you on an extraordinary journey with the author, her husband, and Julia, the emotionally constricted daughter they adopted from a Russian orphanage. Their struggle with love and loss, frustration and disappointment, fear and hope will chill and ultimately thrill anyone who is a parent—through birth or adoption—or who is thinking about becoming one." —Gloria Hochman, director of communications, NationalAdoptionCenter
"Traster's experiences and the way she writes about the realities of adoption are very helpful to everyone raising a child with RAD or thinking of adopting a child who may have RAD." —Irene Clements, president, National Foster Parent Association
"Rescuing Julia Twice" is a good read to understand the journey of adoptive families and the struggle they sometimes experience parenting children from tough beginnings." —Adoption Today
"This is not the average I'm-so-lucky, big-group-hug book on the subject. Author and adoptive mother Tina Traster gets real. Since we all know someone who has adopted, it's a must-read… [a] stunning book!" —Parents.com
Chicago Review Press, 9781613746783, 264pp.
Publication Date: May 1, 2014
About the Author
Tina Traster is an award-winning journalist whose work has appeared in scores of newspapers, magazines, and literary journals including the New York Times, New York Post, Time Out New York, the Daily Beast, Huffington Post, Family Circle, Parade, Audubon, and many more.
Melissa Fay Greene is the award-winning author of five books of nonfiction, including There Is No Me Without You, about the HIV/AIDS African orphan crisis, and No Biking in the House Without a Helmet, about raising her family. She and her husband are the parents of nine children: four by birth and five by adoption.
or
Not Currently Available for Direct Purchase