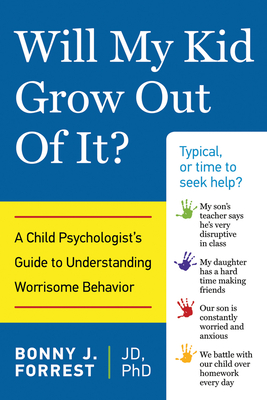 Will My Kid Grow Out of It? (Paperback)
A Child Psychologist's Guide to Understanding Worrisome Behavior
Chicago Review Press, 9781613747629, 278pp.
Publication Date: October 1, 2014
* Individual store prices may vary.
Description
At some point most parents wonder whether their child's behavior is "normal."" He won't focus on his homework--could he have ADHD? She seems sad a lot--is she depressed? She's falling behind at school--could she have a learning disability?" Such anxieties can plague parents, who are often hesitant to seek help for fear of stigmatizing their child or are unsure where to turn.
"Will My Kid Grow Out of It?" is an indispensable guide to the most common mental, neurological, and developmental issues kids--from newborn through high school--may be struggling with. Dr. Forrest draws on more than 20 years of experience treating and advocating for children to help worried parents sort through the health scares, contradictory information, and latest buzz terms to assess whether their child's behavior is typical for his or her age or a sign that professional attention may be warranted.
She uses lay terms to describe sets of behaviors that may be problematic, possible diagnoses, which professionals are appropriate to consult, effective treatments, and the steps to take to get support and services from schools and the state. The book even includes a code allowing readers access to a free online screening tool.A vital guide to have on hand during a child's formative years, "Will My Kid Grow Out of It?" is the most informative, fresh, and essential parenting guide released in years.
About the Author
Bonny Forrest, JD, PhD, a pediatric neuropsychologist who has worked with thousands of children, received her PhD from Columbia University and completed fellowships at Yale University, Columbia University, and the National Institute of Mental Health. Dr. Forrest maintains a blog on children's mental health (askdrforrest.com); contributes to peer-reviewed journals; is a contributor to TV news programs on NBC, KUSI, FOX, CNN, and other networks; and speaks at conferences on topics concerning children who have mental health and behavioral issues.