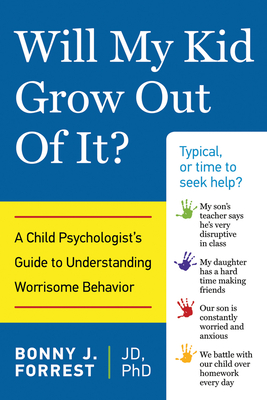 Will My Kid Grow Out of It? (Paperback)
A Child Psychologist's Guide to Understanding Worrisome Behavior
Chicago Review Press, 9781613747629, 288pp.
Publication Date: October 1, 2014
* Individual store prices may vary.
Description
At some point most parents wonder whether their child's behavior is "normal." He won't focus on his homework—could he have ADHD? She seems sad a lot—is she depressed? She's falling behind at school—could she have a learning disability? Such anxieties can plague parents, who are often hesitant to seek help for fear of stigmatizing their child or are unsure where to turn.
 
Will My Kid Grow Out of It? is an indispensable guide to the most common mental, neurological, and developmental issues kids—from newborn through high school—may be struggling with. Dr. Forrest draws on more than 20 years of experience treating and advocating for children to help worried parents sort through the health scares, contradictory information, and latest buzz terms to assess whether their child's behavior is typical for his or her age or a sign that professional attention may be warranted.

She uses lay terms to describe sets of behaviors that may be problematic, possible diagnoses, which professionals are appropriate to consult, effective treatments, and the steps to take to get support and services from schools and the state. The book even includes a code allowing readers access to a free online screening tool.
A vital guide to have on hand during a child's formative years, Will My Kid Grow Out of It? is the most informative, fresh, and essential parenting guide released in years.
About the Author
Bonny Forrest, JD, PhD, a pediatric neuropsychologist who has worked with thousands of children, received her PhD from Columbia University and completed fellowships at Yale University, Columbia University, and the National Institute of Mental Health. Dr. Forrest maintains a blog on children's mental health (askdrforrest.com); contributes to peer-reviewed journals; is a contributor to TV news programs on NBC, KUSI, FOX, CNN, and other networks; and speaks at conferences on topics concerning children who have mental health and behavioral issues.
Praise For Will My Kid Grow Out of It?: A Child Psychologist's Guide to Understanding Worrisome Behavior…
"Dr Forrest is a trusted alley, an expert on your team, for any parent with concerns about mental health issues in their child. Her supportive and direct  explanations of prevalent mental disorders in youth, and, the value of early intervention, gives parents the tools to successfully navigate the mental health system to help their child.  Dr. Forrest lifts the veil of mystery to mental health, to disclose the most current expertise to families." —Lisa Miller, Ph.D., Professor and Director of the Clinical Psychology Program and Director of the Spirituality and Mind-Body Institute at Teachers College, Columbia University.
"A science-based but very readable guide about the children's mental health system that leads readers through some of the most common mental health diagnoses and the most effective treatments.  Dr. Forrest does an incredible job condensing complex volumes of information into a very useful resource with sensitivity and real-world common sense. Her online screening program she has created (and which she provides access to in the book) has established her as an innovative leader in the field.  Parents, teachers, journalists, and professionals will find the book helpful for its scope and clarity.  Anyone interested in prevention and children should read this book." —Russ Newman Ph.D., JD Provost Alliant International University and former Executive Director of the Practice Directorate of the American Psychological Association
"At a time when mental health issues are in the news almost weekly, it is important for parents, teachers and mental-health professionals to have a resource that helps them understand the best approaches to diagnosis and treatment.  Dr. Forrest provides this resource in this book.  In a clear, even-handed way, she sorts out myth from fact and shows how best to support and advocate for children.  Anyone interested in understanding mental health issues in children should read this book." —William Perry, Ph.D., Professor of Psychiatry and Director of Division of Clinical Psychiatry, University of California, San Diego 
"Dr. Forrest is my trusted colleague for all mental health issues in children.  Known for her no-nonsense straight talk, she has worked with hundreds of families to help them navigate the complex maze of the children's mental health system.  From the premature baby to the 17-year-old going on 25, she can help you sort through what you need to know to successfully understand children's issues.   Most of all, her focus on the rewards of early intervention should provide comfort to all parents – and is a message all policy makers should understand." —Kevin Robertson, MBA, Executive Director Miracle Babies
"Few issues in modern epidemiology are more unsettling than behavioral and psychological conditions in young children.  Parents are the first line of defense and diagnosis, and the dividing line between normal variants and true pathology can be quite murky.  Bonny Forrest approaches this difficult topic with expert knowledge and obvious compassion, empowering parents to recognize warning signs early and reliably, and respond to them both constructively, and lovingly.  I recommend the book highly to all parents of young children- and encourage my public health colleagues to do likewise." —David L. Katz MD, MPH, FACPM, FACP, founding director of Yale University's Prevention Research Center
"Any parent could benefit from Forrest's sound advice." —Booklist
"The included case studies, bullet lists of symptoms, possible diagnoses, and the most up-to-date treatment methods will help parents who are on the fence about seeking treatment find solid advice on whether or not to move forward with professional help." —Library Journal
"Forrest presents an incredibly valuable, easy-to-read guide. It can be scary when you don't know if your child has a disorder, and Forrest provides a thorough and thoughtful place to begin." —PyschCentral.com
or
Not Currently Available for Direct Purchase