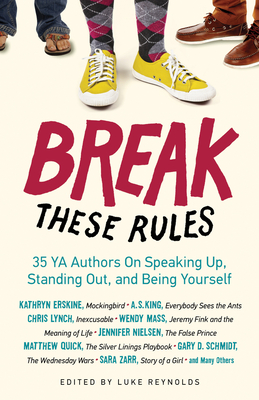 Break These Rules
35 YA Authors on Speaking Up, Standing Out, and Being Yourself
Paperback

* Individual store prices may vary.
Description
If you're a girl, you should strive to look like the model on the cover of a magazine. If you're a boy, you should play sports and be good at them. If you're smart, you should immediately go to college after high school, and get a job that makes you rich. Above all, be normal.
Right?
Wrong, say 35 leading middle grade and young adult authors. Growing up is challenging enough; it doesn't have to be complicated by convoluted, outdated, or even cruel rules, both spoken and unspoken. Parents, peers, teachers, the media, and the rest of society sometimes have impossible expectations of teenagers. These restrictions can limit creativity, break spirits, and demand that teens sacrifice personality for popularity.
In these personal, funny, moving, and poignant essays, Kathryn Erskine (Mockingbird), Matthew Quick (The Silver Linings Playbook), Gary D. Schmidt (The Wednesday Wars), Sara Zarr (Story of a Girl), and many others share anecdotes and lessons learned from their own lives in order to show you that some rules just beg to be broken.
Praise For Break These Rules: 35 YA Authors on Speaking Up, Standing Out, and Being Yourself…
"This book actually breaks the rules just by existing. This much sheer coolness should not be allowed in one volume!"  —Jordan Sonnenblick, bestselling author, Drums, Girls & Dangerous Pie

"These wonderful essays not only lay out good reasons for breaking rules, but they also provide lots of room for thought. If I could make one rule, it would be for every teen, parent, and teacher to read this collection. We'd all be better for it."  —Kathi Appelt, author of  the Newberry Honor–winning novel The Underneath

"Much of the advice—from rejecting conventional standards of beauty to not worrying about fitting in—may be familiar to many readers, though that doesn't make it any less sound. In the strongest entries, the writers use examples of their own past struggles to subtly drive home their messages."  —Publishers Weekly

"Each contributor shares personal experience and advice, which makes for good, varied reading that will surely offer something unique for many readers. The essays are inspiring and thought-provoking, and many offer truly funny moments."  —School Library Journal

"While each contribution is deeply heartfelt, the shining stars of the collection are those that elegantly guide the reader with authentic, personal specifics on journeys that are genuinely transformative."  —Booklist


"This book is a hall pass to individuality, out-of-the-box thinking and self-expression. LOVE. IT."  —Justine
Chicago Review Press, 9781613747841, 224pp.
Publication Date: September 1, 2013
About the Author
Luke Reynolds has taught middle school and high school English in Connecticut and Massachusetts, as well as composition at Northern Arizona University. He is the coeditor of Burned In and Dedicated to the People of Darfur and the author of A Call to Creativity, Keep Calm and Query On, and A New Man. His writing has appeared in the Arizona Daily Sun, the Hartford Courant, Mutuality magazine, the Sonora Review, Tucson Weekly, and the Writer. He lives in Boston.