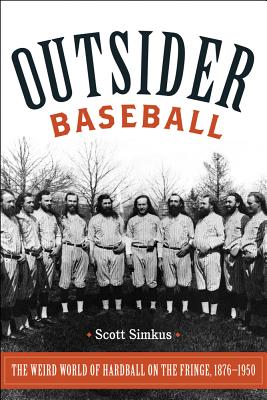 Outsider Baseball
The Weird World of Hardball on the Fringe, 1876–1950
Hardcover

* Individual store prices may vary.
Description
Outsider Baseball is the story of a forgotten world, where independent professional ball clubs zig-zagged across America, plying their trade in big cities and small villages alike.  Included among the former and future major leaguers were mercenaries, scalawags, and outcasts. This is where Babe Ruth, Rube Waddell, and John McGraw crossed bats with the Cuban Stars, Tokyo Giants, Brooklyn Bushwicks, dozens of famous Negro league teams, and novelty acts such as the House of David and Bloomer Girls.
            Legends emerged in this alternate baseball universe and author Scott Simkus sets out to share their stories and use a critical lens to separate fact from fiction. Written in a gritty prose style, Outsider Baseball combines meticulous research with modern analytics, opening the door to an unforgettable funhouse of baseball history.
Praise For Outsider Baseball: The Weird World of Hardball on the Fringe, 1876–1950…
"A must-read for anyone with more than a passing interest in the national pastime. This careful, provocative examination of baseball's history and mystery challenges much of the conventional wisdom surrounding the sport, forcing us to see the game in a different light." —Kevin Baxter, Los Angeles Times


"Simkus is at his best when presenting the wild and wacky leagues and players. He respects the game and its statistics, but he also strikes a balance with his breezy prose that number geeks and casual fans should find appealing." —The Tampa Tribune
"...the amount of research he's done—not to mention his number-crunching—is heroic. Just for that, Outisder Basebell deserves to be read by every baseball history junkie." —ChicagoReader.com
"The obsessive author takes you into the world of semipro teams, independent clubs, minor league sides and barnstorming outfits. Think you know the history of the game? Simkus will open your eyes to whole new worlds." —Newsday
Chicago Review Press, 9781613748169, 336pp.
Publication Date: March 1, 2014
About the Author
Scott Simkus is the founder and editor of the Outsider Baseball Bulletin. He is the winner of a research award from the Society of American Baseball Research for his work on the Negro League Database.
or
Not Currently Available for Direct Purchase