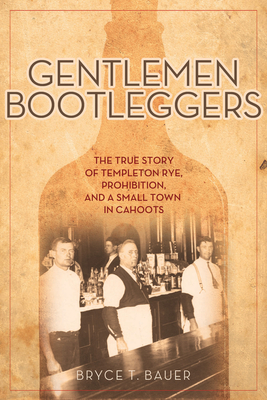 Gentlemen Bootleggers (Hardcover)
The True Story of Templeton Rye, Prohibition, and a Small Town in Cahoots
Chicago Review Press, 9781613748480, 320pp.
Publication Date: July 1, 2014
Other Editions of This Title:
Paperback (10/1/2016)
MP3 CD (4/18/2017)
* Individual store prices may vary.
Description
2014 Benjamin F. Shambaugh Award Winner

2015 Spirited Awards Top Ten Finalist
During Prohibition, while Al Capone was rising to worldwide prominence as Public Enemy Number One, the townspeople of rural Templeton, Iowa—population just 428—were busy with a bootlegging empire of their own. Led by Joe Irlbeck, the whip-smart and gregarious son of a Bavarian immigrant, the outfit of farmers, small merchants, and even the church monsignor worked together to create a whiskey so excellent it was ordered by name: "Templeton rye."
Just as Al Capone had Eliot Ness, Templeton's bootleggers had as their own enemy a respected Prohibition agent from the adjacent county named Benjamin Franklin Wilson. Wilson was ardent in his fight against alcohol, and he chased Irlbeck for over a decade. But Irlbeck was not Capone, and Templeton would not be ruled by violence like Chicago.
Gentlemen Bootleggers tells a never-before-told tale of ingenuity, bootstrapping, and perseverance in one small town, showcasing a group of immigrants and first-generation Americans who embraced the ideals of self-reliance, dynamism, and democratic justice. It relies on previously classified Prohibition Bureau investigation files, federal court case files, extensive newspaper archive research, and a recently disclosed interview with kingpin Joe Irlbeck. Unlike other Prohibition-era tales of big-city gangsters, it provides an important reminder that bootlegging wasn't only about glory and riches, but could be in the service of a higher goal: producing the best whiskey money could buy.
About the Author
Bryce T. Bauer is a Hearst Award– winning journalist who has written for Saveur, the Daily Iowan, the Cedar Rapids Gazette, and other publications. He is coproducing and cowriting the documentary Whiskey Cookers: The Amazing Story of the Bootleggers of Templeton, Iowa.
Praise For Gentlemen Bootleggers: The True Story of Templeton Rye, Prohibition, and a Small Town in Cahoots…
"Bauer serves up history just the way I like it—straight and with a strong punch. Gentlemen Bootleggers is insightful, well-written, and highly entertaining." —Jonathan Eig, author of Get Capone: The Secret Plot That Captured America's Most Wanted Gangster
"The story of the legendary 'Templeton rye' and the midwestern bootlegging empire that created this liquor is a fascinating slice of American history. Bauer has written a vivid and comprehensive tale, full of characters, action, anecdotes, facts, and cultural observations, that provides a compelling look at this peculiar period. Gentleman Bootleggers is a necessary addition to existing scholarship and a must-have for any scholar or fan of the Prohibition era, bootlegging, and the distillation of illegal spirits." —Matt Bondurant, author of The Wettest County in the World
"A quiet revolt against Prohibition happened in Templeton, Iowa, where the famous Templeton rye whiskey was made illegally and prized by its consumers. This is a book full of interesting characters, especially Iowa's bootlegging king Joe Irlbeck, his confederates in town and the lawmen who tried to catch up with the lot of them." —Omaha World-Herald
"Mr. Bauer carefully pulls us along as the moonshining business in Templeton expands and the lawmen attempt to bring it down. His book is full of the little gems that come only from spending serious time in the back rooms of good libraries." —
The Wall Street Journal
"Bauer turns phrases easily [...]. Readers will be entertained." —Publishers Weekly
"A fascinating, well-researched glimpse into a much-­storied period in U.S. history." —Library Journal
"Save for repeal, few good things came of the Eighteenth Amendment. But Templeton rye was one of them. Rethink the Prohibition era in a Grant Wood landscape with the Good Soldier Schweik as Public Enemy Number One, add a few episodes of Road Runner and Wile E. Coyote, and you've got a pretty good sense of Bauer's story. A nifty bit of local history, it can be read with both gain and pleasure anywhere that whiskey is enjoyed and civil disobedience respected." —David Schoenbaum, author of The Violin: A Social History of the World's Most Versatile Instrument
"A well-researched, engaging look at an Iowa bootlegging operation and how the bonds and intimacy of small-town life kept it alive." —Maureen Ogle, author of Ambitious Brew: The Story of American Beer
"Gentlemen Bootleggers presents an intriguing and accurate account of Templeton rye production during Prohibition and reveals how this illegal activity saved many farmers in the area from foreclosure. Bauer, as a meticulous researcher, does an excellent job of weaving local history with state and national events." —Arthur Neu, former lieutenant governor of Iowa
"Pesky revenuers be damned, Gentleman Bootleggers uncovers how small-town Iowa worked together to make and sell rye whiskey. This book will make you crave untaxed liquor . . . the illegal stuff." —Fred Minnick, author of Whiskey Women: The Untold Story of How Women Saved Bourbon, Scotch, and Irish Whiskey