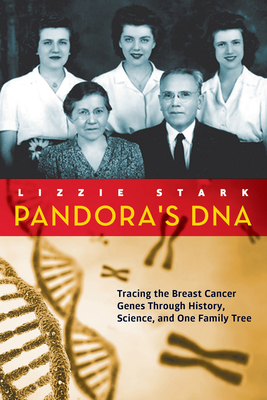 Pandora's DNA (Hardcover)
Tracing the Breast Cancer Genes Through History, Science, and One Family Tree
Chicago Review Press, 9781613748602, 336pp.
Publication Date: October 1, 2014
* Individual store prices may vary.
Description
2015 ALA Notable Book

Would you cut out your healthy breasts and ovaries if you thought it might save your life? That's not a theoretical question for journalist Lizzie Stark's relatives, who grapple with the horrific legacy of cancer built into the family DNA, a BRCA mutation that has robbed most of her female relatives of breasts, ovaries, peace of mind, or life itself. In Pandora's DNA, Stark uses her family's experience to frame a larger story about the so-called breast cancer genes, exploring the morass of legal quandaries, scientific developments, medical breakthroughs, and ethical concerns that surround the BRCA mutations, from the troubling history of prophylactic surgery and the storied origins of the boob job to the landmark lawsuit against Myriad Genetics, which held patents on the BRCA genes every human carries in their body until the Supreme Court overturned them in 2013. Although a genetic test for cancer risk may sound like the height of scientific development, the treatment remains crude and barbaric. Through her own experience, Stark shows what it's like to live in a brave new world where gazing into a crystal ball of genetics has many unintended consequences.
About the Author
Lizzie Stark is the author of Leaving Mundania and a freelance journalist who has written for io9.com , The Today Show website, Psychology Today, The Daily Beast and the Philadelphia Inquirer. She holds an M.S. in New Media Journalism from the Columbia University Graduate School of Journalism. She founded and edited the literary journal Fringe.
Praise For Pandora's DNA: Tracing the Breast Cancer Genes Through History, Science, and One Family Tree…
"An extraordinary book, written with passion and compassion,
Pandora's DNA
illuminates a new world of science and medicine." —
Siddhartha Mukherjee, oncologist and Pulitzer Prize-winning author of
The Emperor of All Maladies: A Biography of Cancer

"Lizzie Stark writes with intelligence, wit, and bracing honesty about the wrenching ambiguities of genetic medicine." —Dan Fagin, Pulitzer Prize–winning author of Toms River: A Story of Science and Salvation
"Stunning. I couldn't put this book down. A must-read for any woman affected by this disease to learn her true risk, and especially for those women who believe they are unaffected by breast cancer. Lizzie Stark beautifully weaves her family's personal narrative with untold, fascinating historic reporting. The emotional impact is a wallop. Although there is unbelievable sadness and tragedy in her family experiences, Lizzie's story gives hope for a different future. Lizzie is my new hero." —Geralyn Lucas, nineteen-year breast cancer survivor and author of Why I Wore Lipstick to My Mastectomy and Then Came Life: Living with Courage, Spirit and Gratitude After Breast Cancer
"With incisive wit and a reporter's poke at the jugular, Stark delivers the goods on this disease that though now much discussed still creates anguish in most of us. For every collection." —
Library Journal (starred review)
"The book is a must-read for women questioning whether to be tested for the BRCA mutations and for women considering their options after testing positive. A gutsy, deeply revealing account that more than fulfills the promise of the subtitle." —
Kirkus Reviews (starred review)
"With her remarkable memoir, Stark gives us medical history and personal testament that intelligently balances hard-edged science with boundless hope." —
Publishers Weekly 
(starred review)
"This text is a must read for anyone interested in the history of medical research, for those interested in the intersection of science/medicine and public policy, and for anyone concerned about health issues that, while not solely limited to women, are situated most frequently in the female body." —Vision Learning

"Stark writes stylishly and entertainingly about an all-too common experience and in-the-news topic." —Booklist
"a frank recounting of [Stark's] personal story, and an informative look at tracing the cancer gene in families…" —Quincy Herald-Whig
"I believe that every woman (and every man who cares about women) should read this book." —Brookline Hub

On page 6, Stark writes, "To me, my family's level of cancer feels biblical in scope, and this has mediated my personal experiences with the medical system." In what ways has Stark's family history affected her treatment?generic viagra price canada
On page 8, Stark quotes a study that showed that less than half of women with a BRCA diagnosis choose mastectomy. Why do you think this is?generic viagra price canada
The book's title draws a comparison between the BRCA genes and Pandora's box. One opened, Pandora's box let the plagues escape into the world; only hope was left in the bottom of the box. In what ways is this a metaphor for the BRCA genes?generic viagra price canada
The book explores the history of breast cancer, from women like the Persian queen Atossa up to the modern day. In what ways has the experience of breast cancer changed over time? In what ways has it stayed the same?generic viagra price canada
Do you think the Supreme Court made the right decision in overturning Myriad's patents on the BRCA genes, but upholding the possibility that cDNA is patentable? Why?generic viagra price canada
One aspect of the BRCA experience for both patients and physicians is the weight of uncertainty—uncertainty about a particular woman's risk levels and uncertainty due to the imperfect knowledge of medicine. How does this uncertainty impact Stark and her relatives throughout the book?generic viagra price canada
If Cheri had tested positive for a BRCA mutation, there is a good chance she would have had a preventive mastectomy. However, she was not offered testing because she did not have a first-degree relative with breast cancer. At the same time, genetic testing has very complicated emotional repercussions, even for those who, like Stark's cousin Lisa, test negative, and if it were more widely offered, this psychological stress would affect many more people, likely in unexpected ways. Do you think that genetic testing for BRCA mutations should be available on demand or only for selected populations? Why or why not?generic viagra price canada
People often say that "knowledge is power," but given the complex repercussions of understanding one has a BRCA mutation—a diagnosis for one person can mean stress for the entire rest of the family—is there also a right not to know?generic viagra price canada
or
Not Currently Available for Direct Purchase