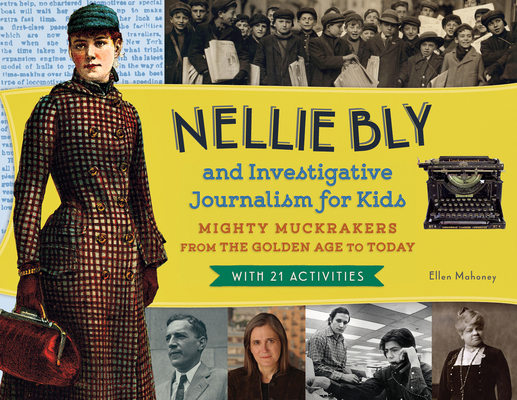 Nellie Bly and Investigative Journalism for Kids
Mighty Muckrakers from the Golden Age to Today, with 21 Activities (For Kids series #56)
Paperback

* Individual store prices may vary.
Description
A Notable Social Studies Trade Book for Young People 2016

In the late 1800s, the daring young reporter Elizabeth Cochrane—known by the pen name Nellie Bly—faked insanity so she could be committed to a mental institution and secretly report on the awful conditions there. This and other highly publicized investigative "stunts" laid the groundwork for a new kind of journalism in the early 1900s, called "muckraking," dedicated to exposing social, political, and economic ills in the United States. In Nellie Bly and InvestigativeJournalism for Kids budding reporters learn about the major figures of the muckraking era: the bold and audacious Bly, one of the most famous women in the world in her day; social reformer and photojournalist Jacob Riis; monopoly buster Ida Tarbell; antilynching crusader Ida B. Wells; and Upton Sinclair, whose classic book The Jungle created a public outcry over the dangerous and unsanitary conditions of the early meatpacking industry. Young readers will also learn about more contemporary reporters, from Bob Woodward and Carl Bernstein to Amy Goodman, who have carried on the muckraking tradition, and will get excited about the ever-changing world of journalism and the power of purposeful writing. Twenty-one creative activities encourage and engage a future generation of muckrakers. Kids can make and keep a reporter's notebook; write a letter to the editor; craft a "great ideas" box; create a Jacob Riis–style photo essay; and much more.
Praise For Nellie Bly and Investigative Journalism for Kids: Mighty Muckrakers from the Golden Age to Today, with 21 Activities (For Kids series #56)…
"What an engaging concept! Not only is this book very informative about Nellie Bly and other investigative journalists, but the activities are extremely engaging and complement the well-researched narrative. It's not hard to imagine a new generation of muckrakers being inspired by these pages." —Arthur "Tri" Fritz, editor, The Nellie Bly Collection, and creator, nellieblyonline.com

"An engaging book with very rich stories about the early muckrakers who helped to define journalism as a public service. Ellen Mahoney's storytelling approach is perfect for young readers, and each chapter unfolds as an adventure." —Suzanne Lysak, assistant professor, broadcast and digital journalism, Syracuse University Newhouse School of Public Communications

"This outstanding work of nonfiction is sure to inspire a new generation of investigative journalists." —Teacher Librarian

"With excellent content, an appealing layout, and an exciting topic, this book is a joy to read and explore." —Booklist
Chicago Review Press, 9781613749975, 144pp.
Publication Date: May 1, 2015
About the Author
Ellen Mahoney is an instructor in the Department of Journalism and Technical Communication at Metropolitan State University of Denver and is coauthor, with astronaut Edgar Mitchell, of Earthrise: My Adventures As an Apollo 14 Astronaut.

or
Not Currently Available for Direct Purchase