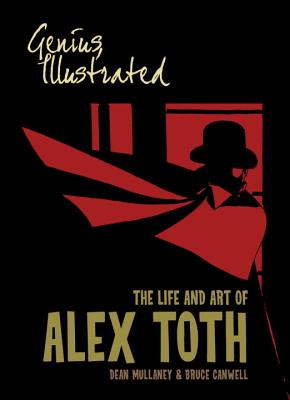 Genius, Illustrated: The Life and Art of Alex Toth (Hardcover)
The Life and Art of Alex Toth
IDW Publishing, 9781613770245, 349pp.
Publication Date: February 12, 2013
Description
Dean Mullaney and Bruce Canwell continue their comprehensive review of the life and art of Alex Toth in Genius, Illustrated. Covering the years from the 1960s to Toth's poignant death in 2006, this oversized 9.5- v 13- book features artwork and complete stories from Toth's latter-day work at Warren, DC Comics, Red Circle, Marvel, and his own creator-owned properties, plus samples of his animation work for Hanna-Barbera, Ruby-Spears, and others, as well as sketchbook pages, doodles, advertising art, and other rarities provided through the cooperation of Toth's family and his legion of fans.
Two of Toth's best stories are reproduced complete from the original artwork: -Burma Skies- and -White Devil...Yellow Devil.- A full-length text biography will chart the path from Toth's increasingly-reclusive lifestyle to his touching re-connection to the world in his final years. Fans of comics, cartoons, and all-around great artwork revere Alex Toth. See why Genius, Illustrated -- along with its companion volume, 2011's Genius, Isolated -- are being praised as the definitive examination of the life and art of The Master, Alex Toth.
About the Author
Born in New York City in 1928, Alex Toth attended what is now the School of Visual Arts and broke into the comic book field as a teenager. During his sixty-year professional career, he became known as the "artists' artist"--he became very much like his great hero, Noel Sickles--the guy all the others wanted to draw like. In the 1960s he entered the animation field and became equally well-known and respected for his groundbreaking designs for Space Ghost and The Herculoids, among other series.
Advertisement