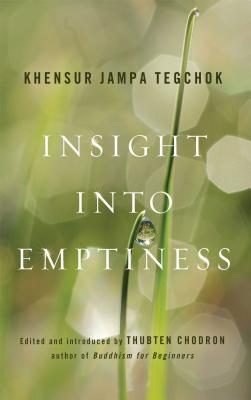 Insight into Emptiness (Paperback)
Wisdom Publications, 9781614290131, 296pp.
Publication Date: July 31, 2012
* Individual store prices may vary.
Description
A former abbot of one of the largest Tibetan Buddhist monasteries in the world, Khensur Jampa Tegchok has been teaching Westerners about Buddhism since the 1970s. With a deep respect for the intellectual capacity of his students, Khensur Tegchok here unpacks with great erudition Buddhism's animating philosophical principle - the emptiness of all appearances. Engagingly edited by bestselling author Thubten Chodron, emptiness is here approached from a host of angles far beyond most treatments of the subject, while never sacrificing its conversational approach.
About the Author
Born in 1930, Khensur Jampa Tegchok became a monk at the age of eight. He studied major Buddhist treatises at Sera Monastic University in Tibet for fourteen years before fleeing his homeland in 1959. The former abbot of the Je College of Sera Monastic University in India, he has also been a beloved teacher at several FPMT centers including the Masters Program at Instituto Lama Tsongkhapa in Italy, Land of Medicine Buddha in California, and Nalanda Monastery in France.

Bhikshuni Thubten Chodron has practiced the Buddha's teachings for more than thirty-five years. A native of Los Angeles, she ordained as a nun in the Tibetan tradition in 1977 and received the full ordination of a bhikshuni in Taiwan in 1986. Venerable Chodron has studied extensively with His Holiness the Dalai Lama, Tsenzhap Serkhong Rinpoche, Zopa Rinpoche, and Lama Thubten Yeshe among many other Tibetan masters. With a clear, practical, and humorous style, she teaches Buddhist philosophy and meditation worldwide. Her numerous books, published in several languages, include Buddhism for Beginners, Taming the Mind, and most recently Don't Believe Everything You Think. Venerable Chodron has been the resident teacher at Amitabha Buddhist Centre in Singapore and was the resident teacher and spiritual adviser for Dharma Friendship Foundation in Seattle for ten years. She is currently the abbess of Sravasti Abbey, a Buddhist monastic community in Newport, Washington, which she founded in 2003. Many of her teachings are available on her website, www.thubtenchodron.org, and on the Sravasti Abbey Youtube Channel.
Praise For Insight into Emptiness…
"Khensur Rinpoche Jampa Tegchok is renowned among the great monastic universities for his keen understanding of philosophy, and of Madhyamaka in particular. Here you will find vital points and reasoning for a clear understanding of emptiness."
— Lama Zopa Rinpoche, author of How to Be Happy

"One of the best introductions to the philosophy of emptiness I have ever read."
— Jose Ignacio Cabezón, Dalai Lama Professor and Chair, Religious Studies Department, UC Santa Barbara

"It is wonderful to see these authoritative and extremely clear teachings. They ease us, step by step, into deeper understanding of emptiness and its liberating power. Highly recommended!"
— Guy Newland, author of Introduction to Emptiness

"This jewel of a book contains the essence of the teachings on emptiness that Khensur Jampa Tegchog has been imparting to Westerners for over thirty years, opening the door to this challenging topic for thousands of people. His approach is straightforward, down-to-earth, compassionate, and rich with practical examples that help to clarify the most profound and complex points."
— Ven. Sangye Khadro, author of Awakening a Kind Heart