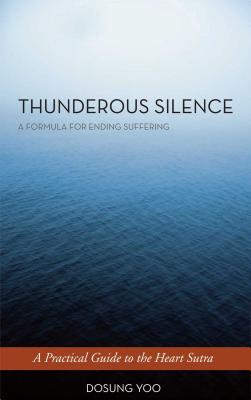 Thunderous Silence
A Formula for Ending Suffering: A Practical Guide to the Heart Sutra
Paperback

* Individual store prices may vary.
Description
Thunderous Silence throws light on the Heart Sutra--a pithy encapsulation of the essence of Perfection of Wisdom literature--using stop-by-step analysis and an easy, conversational voice. Dosung Yoo examines the sutra phrase by phrase, using rich explanations and metaphors drawn from Korean folklore, quantum physics, Charles Dickens, and everything in between to clarify subtle concepts for the reader. This book invites us to examine the fundamentals of Buddhism--the Four Noble Truths, emptiness, enlightenment--through the prism of the Heart Sutra. Both those new to Buddhism and longtime practitioners looking to revisit a core text from a fresh perspective will find this work appealing.
Praise For Thunderous Silence: A Formula for Ending Suffering: A Practical Guide to the Heart Sutra…
Discusses basic Buddhist teachings thoroughly, with a delightful ease and lightness expressive of the emptiness teachings themselves, and features a wealth of charmingly told Korean folk stories and old Buddhist tales that illustrate, with humor and magical realism, the potentially abstract and philosophical teaching of the sutra."Shambhala Sun

Simple and powerfulRev. Yoo's commentary opens the gateway to a deeper understanding of Buddhadharma and enriching both our practice and daily lives. I cannot recommend it highly enough."-His Holiness, Venerable Chwasan, former Head Dharma Master of Won Buddhism

An accessible commentary on a seminal concept in Mahayana Buddhism. Rev. Dosung Yoo's practical guide uses concrete examples drawn from everyday life to deepen the reader's understanding and practice."Robert E. Buswell, Jr., Distinguished Professor of Buddhist Studies, UCLA

Wonderful and welcome. Dosung Yoo brings a keenly-felt contemplative understanding of the core text and strong, clear voice. He is as well-grounded in classical Mahayana teachings as in the folk narratives of Korean Buddhism. A valuable contribution."Mu Soeng, author of The Diamond Sutra and The Heart of the Universe
Wisdom Publications, 9781614290537, 259pp.
Publication Date: January 8, 2013
About the Author
Rev. Dosung Moojin Yoo was ordained in the Won-Buddhist Order in Korea in 1993. He teaches at the Won Dharma Center in Claverack, New York, where he lives, and at the Won Institute of Graduate Studies. He has translated several Won-Buddhist Texts and is interested in bridging the gap between the teachings of Christianity and Buddhism.
or
Not Currently Available for Direct Purchase