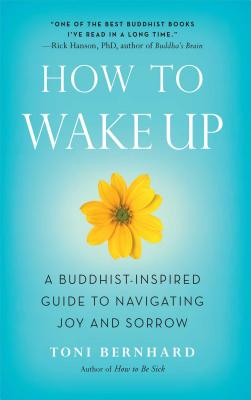 How to Wake Up
A Buddhist-Inspired Guide to Navigating Joy and Sorrow
Paperback

* Individual store prices may vary.
Other Editions of This Title:
Paperback, Spanish (6/30/2014)
Description
Intimately and without jargon, How to Wake Up: A Buddhist-Inspired Guide to Navigating Joy and Sorrow describes the path to peace amid all of life's ups and downs. Using step by step instructions, the author illustrates how to be fully present in the moment without clinging to joy or resisting sorrow. This opens the door to a kind of wellness that goes beyond circumstances. Actively engaging life as it is in this fashion holds the potential for awakening to a peace and well-being that are not dependent on whether a particular experience is joyful or sorrowful. This is a practical book, containing dozens of exercises and practices, all of which are illustrated with easy-to-relate to personal stories from the author's experience.
Praise For How to Wake Up: A Buddhist-Inspired Guide to Navigating Joy and Sorrow…
In How to Wake Up, Toni Bernhard deftly presents deep, profound teachings in an amazingly simple, accessible way. It's like taking a powerful healing medicine that goes down like a delicious milkshake. Bravo!"James Baraz, author of Awakening Joy

Toni Bernhard's beautiful book is a new invitation to investigate the Buddha's teachings in the laboratories of our own lives. How to Wake Up will be greatly appreciated by readers new to the Buddhist path, as well as by seasoned practitioners."Sharon Salzberg, author of Real Happiness

This is a book for everyone."Alida Brill, Psychology Today

All-purpose advice as good as your grandmother gave you, and just as straightforward and heartfelt."Barry Boyce, editor-in-chief of Mindful magazine

Toni Bernhard has done it againsharing wisdom teachings in a way that makes them mightily accessible and helpful without any sacrifice of depth. I love this book!"Tara Brach, Ph.D., author of Radical Acceptance

This remarkable, warm, encouraging, and crystal-clear book expresses the ancient wisdom of the Buddha in universal, twenty-first-century terms. I honestly think it is one of the best Buddhist books I've read in a long time."Rick Hanson, Ph.D., author of Buddha's Brain

I'm often asked what book to read as a comprehensive introduction to Buddhist practice. Now I have one: How to Wake Up."Kevin Griffin, author of One Breath at a Time

A beautiful, wise, and practical book presenting the Buddha's teaching for our contemporary world."Gil Fronsdal, author of The Issue At Hand

The beauty of this book is how clear, wise, and helpful it is. Both while reading it and after, you can put it to use; this is what literature is for. It's something to cherish and practice."Kim Stanley Robinson, author of Shaman and 2312

This book is a gift, and an invitation to all who read it to awaken!"Joan Halifax, founding abbot, Upaya Zen Center

A fresh and articulate voice interpreting ancient wisdom for our modern times."Sylvia Boorstein, author of It's Easier Than You Think

Practical and insightful. In this book you'll find a path to living with greater ease and freedom, awakening to possibilities you may not have known existed before."Elisha Goldstein, PhD, author of The Now Effect

Follow these simple directions and bring yourself back to life."Karen Maezen Miller, author of Hand Wash Cold

Before I was even half-finished with this book, I wanted to give it to everyone I know."Lynn Royster, founder of the Chronic Illness Initiative at DePaul University

Clear, concise and accessible to anyone wishing to cultivate a path of greater awareness and understanding."Christina Feldman, author of Compassion

No one ever said life would be easy, but Toni Bernhard finds a path through the difficulties and points the way to freedom. This is a vital guide for every journey to finding our true home."Ed and Deb Shapiro, authors of Be the Change

A wonderfully clear guide to engaging all the joys and sorrows of our experience with awareness, grace, and wisdom."Joseph Goldstein, author of A Heart Full of Peace

Accessible, useful, and filled with Bernhard's personal insight and wisdom gained from her own challenging experiences with illness and sorrow. It has been a path that has led her to a place of contentment, a place to which she now leads her readers."Joy H. Selak, author of You Don't Look Sick!

Toni writes with clarity and insight that makes ancient Buddhist teachings accessible to our modern lives. I am honored to recommend this book to anyone looking to live a deeper and more engaging life." Danea Horn, author of Chronic Resilience

This wonderful book is an easy-to-follow guide that will help you learn skills of mindfulness and compassion, ultimately leading to true happiness."Kristin Neff, Ph.D., author of Self-Compassion
Wisdom Publications, 9781614290568, 231pp.
Publication Date: August 27, 2013
About the Author
Toni Bernhard is the author of the award-winning How to Be Sick: A Buddhist-Inspired Guide for the Chronically Ill and their Caregivers and How to Wake Up: A Buddhist-Inspired Guide to Navigating Joy and Sorrow. Until forced to retire due to illness, Toni was a law professor at the University of California-Davis, serving six years as the dean of students. She has been a practicing Buddhist for over 20 years. Her blog, "Turning Straw Into Gold" is hosted on the website of Psychology Today. She can be found online at www.tonibernhard.com.