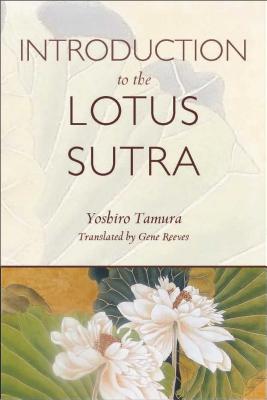 Introduction to the Lotus Sutra (Paperback)
Wisdom Publications, 9781614290803, 192pp.
Publication Date: July 15, 2014
* Individual store prices may vary.
Description
The Lotus Sutra--one of the most popular Buddhist classics--is here accessibly introduced by one of its most eminent scholars. "Soon after entering university in December of 1943, I was sent to the front as a student soldier. I wondered if I were allowed to bring but a single book on the trip, possibly to my death, which would I want to bring. It was the Lotus Sutra" -- from the author's Preface.
Having developed a lifelong appreciation of the Lotus Sutra -- even carrying a dog-eared copy with him through service in World War II -- Yoshiro Tamura sought to author an introduction to this beloved work of Buddhist literature. Tamura wanted it to be different than other basic explorations of the text; his introduction would be plain-spoken, relevant and sensitive to modern concerns, and well-informed by contemporary scholarship. He succeeded marvelously with Introduction to the Lotus Sutra, which Gene Reeves -- Tamura's student and translator of the popular English edition of The Lotus Sutra -- translates and introduces in English for the first time here.
Tackling issues of authenticity in the so-called "words of Buddha," the influence of culture and history on the development of the Lotus Sutra, and the sutra's role in Japanese life, Introduction to the Lotus Sutra grounds this ancient work of literature in the real, workaday world, revealing its continued appeal across the ages.
About the Author
Gene Reeves is a Buddhist scholar and teacher, process philosopher, and theologian who has lived in Tokyo for over 23 years studying, teaching, and practicing the Buddhism of the Lotus Sutra. He is a founder of the International Buddhist Congregation with headquarters in Tokyo, a part of the much larger Rissho Kosei-kai lay Buddhist organization. He is the translator from Chinese into English of The Lotus Sutra: A Contemporary Translation of a Buddhist Classic. His most recently published book is The Stories of the Lotus Sutra. A Buddhist Kaleidoscope: Essays on the Lotus Sutra, which he edited, was published in 2002. He retired in 2012 as distinguished professor at Renmin University of China in Beijing and continues to do field research on contemporary Chinese Buddhism in China and serve as an International Advisor at Rissho Kosei-kai in Japan. He has taught at the University of Tsukuba in Japan, the University of Peking in China, and at the University of Chicago and Meadville Lombard Theological School, Wilberforce University, and Tufts University in the United States. Born and raised in a small factory town in New Hampshire, Reeves graduated from the University of New Hampshire with a degree in psychology, from Boston University with a degree in theology, and from Emory University with a PhD in philosophy. In addition to his passion for Buddhism, Reeves has been active for over 50 years in civil rights causes, working for a time with Martin Luther King, Jr. and for Chicago Mayor Harold Washington. Reeves is married to Yayoi Reeves and has homes in Tokyo and Chicago. He has two adult daughters who live and work in the United States. Yoshiro Tamura (1921-1989) was a well-regarded scholar of Japanese Buddhism, known particularly for his study of the Lotus Sutra and the traditions that developed around it and the person of Nichiren in Japan. Michio Shinozaki is a long-time member of Rissho-Kosei Kai, a popular Japanese lay Buddhist organization, and president of the Rissho Kosei-kai Gakurin Seminary in Tokyo. Shinozaki has authored numerous articles on Japanese Buddhist practice for English speaking members of the organization.