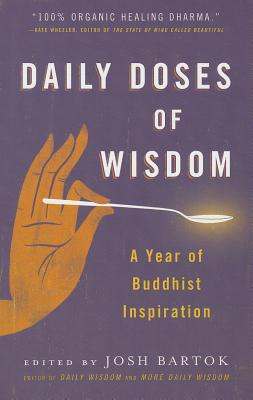 Daily Doses of Wisdom (Paperback)
A Year of Buddhist Inspiration
Wisdom Publications, 9781614291114, 400pp.
Publication Date: September 10, 2013
* Individual store prices may vary.
Description
Daily Doses of Wisdom draws on the richness of Buddhist writings to offer a spiritual cornucopia that will illuminate and inspire day after day, year after year. Sources span a spectrum from ancient sages to modern teachers, from monks to laypeople, from East to West, from poetry to prose. Each page, and each new day, reveals another gem carefully selected from the entire list of titles published by Wisdom.
About the Author
Josh Bartok has served as in-house staff editor at Wisdom for almost 13 years and has worked on almost 200 books in all traditions of Buddhism. He is the co-author, with Ezra Bayda, of Saying Yes To Life (Even the Hard Parts), and the authoring editor of Daily Doses of Wisdom, Daily Wisdom, More Daily Wisdom, Lama Zopa Rinpoche's How to Be Happy, and Lama Yeshe's When the Chocolate Runs Out.

He is also head teacher and spiritual director at the Greater Boston Zen Center, and one of the guiding teachers of Boundless Way Zen. He is a full member of the Soto Zen Buddhist Association and the American Zen Teachers Association, and is a friend of the Lay Zen Teachers Association. Josh has served on the Board of Directors for the Barre Center for Buddhist Studies, and on the planning committee of the first-ever Next-Generation Dharma Teachers event, part of the Mahasangha Gathering that took place at Garrison Institute in July of 2011.

Josh graduated from Vassar College in 1993 with a degree in cognitive science. Recreationally, Josh is an amateur photographer who shows locally and regionally. His work is influenced by John Daido Loori, Kaz Tanahashi, as well as sumi-e and abstract expressionist painters. His photos can be seen online at shobophoto.com.
Praise For Daily Doses of Wisdom: A Year of Buddhist Inspiration…
"These days, we get plenty of 'daily doses,' many of which we could do without: advertising, social media, cynicism, aggression and competition . . . Daily Doses of Wisdom, on the other hand, represents an antidote to these, offering Buddhist inspirations that can help us realize the best in ourselves. From modern masters all the way back to the Buddha himself, these 365 teachings might sustain you not just for a year but a lifetime."
— Rod Meade Sperry, Shambhala Sun

"Select one of these profound and pithy insights and let it soak into your day. You will find it a simple yet powerful way to contemplate Buddhism's great wisdom."--
— Melvin McLeod, editor of The Best Buddhist Writing

"100% organic healing Dharma. Naturally sweet. Effective for major and minor ailments of the heart."
— Kate Wheeler, editor of The State of Mind Called Beautiful

"This is a fabulous collection. I couldn't stop reading them! Every time I dip into this treasure, I come away seeing the world with new eyes. This is a book to keep close by as a lifelong companion."--
— Toni Bernhard, author of How to Be Sick and How to Wake Up

"Directions: Read one page a day. Can be taken with meal. Side effects may include insight, compassion, and wisdom. Stop immediately if experiencing nirvana."
— Sumi Loundon, author of Blue Jean Buddha