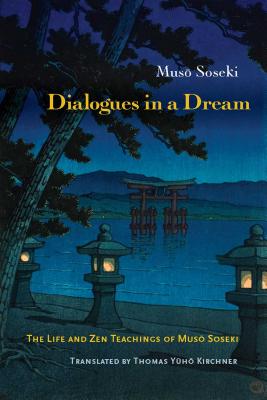 Dialogues in a Dream
The Life and Zen Teachings of Muso Soseki
Paperback

* Individual store prices may vary.
Description
Drawing on his encyclopedic knowledge, one of the most famous masters in the history of Zen leads us on a grand tour of Buddhist theology in all its timeless relevance. Muso Soseki, the renowned fourteenth century Zen master, is today most known for developing the art of traditional Japanese Zen gardening. Even more impressive is his creation of the institutional structure for all Japanese Buddhist temples, which still in use today.
Dialogues in a Dream is one of the many projects Soseki took on in this final period of his life. Written in the guise of a conversation between Soseki and the shogun, the work covers the breadth of Buddhist philosophy and practice, and includes insightful discussions of prayer, mediation, and the place of study in religious life. His penetrating analysis deepens our appreciation of even the simplest Buddhist practices.
Acclaimed scholar Thomas Yuho Kirchner painstakingly translates this classic text into English.
Wisdom Publications, 9781614292531, 448pp.
Publication Date: June 16, 2015
About the Author
Muso Soseki (1275-1351) was a Rinzai Zen Buddhist monk and teacher, and a calligraphist, poet and garden designer. The most famous monk of his time, he is also known as Muso Kokushi ("national Zen teacher"), a honorific conferred to him by Emperor Go-Daigo. Thomas Yuho Kirchner was born in Baltimore, Maryland, in 1949. He went to Japan in 1969 to attend Waseda University in Tokyo for a year, after which he remained in Japan to study Buddhism. He spent three years training under Yamada Mumon as a lay monk at Shofuku-ji before receiving ordination in 1974. Following ordination he practiced under Minato Sodo Roshi at Kencho-ji in Kamakura and Kennin-ji in Kyoto. Following graduate studies in Buddhism at Otani University he worked at the Nanzan Institute for Religion and Culture in Nagoya and subsequently at the Hanazono University International Research Institute for Zen Buddhism. He presently lives at Tenryu-ji in Arashiyama, Kyoto. Among his publications are the Record of Linji, Dialogues in a Dream, and Entangling Vines.
or
Not Currently Available for Direct Purchase