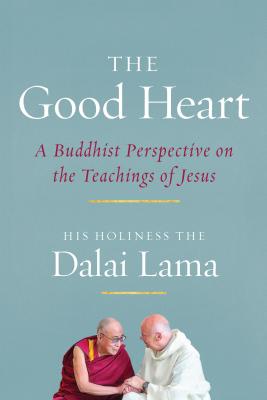 The Good Heart
A Buddhist Perspective on the Teachings of Jesus
Paperback

* Individual store prices may vary.
Description
This landmark of interfaith dialogue will inspire readers of all faiths. In The Good Heart, The Dalai Lama provides an extraordinary Buddhist perspective on the teachings of Jesus. His Holiness comments on well-known passages from the four Christian Gospels, including the Sermon on the Mount, the parable of the mustard seed, the Resurrection, and others. Drawing parallels between Jesus and the Buddha -- and the rich traditions from which they hail -- the Dalai Lama delivers a profound affirmation of the sacred in all religions. Readers will be uplifted by the exploration of each tradition's endless merits and the common humanity they share.
Wisdom Publications, 9781614293255, 232pp.
Publication Date: March 22, 2016
About the Author
The Dalai Lama is the spiritual leader of the Tibetan people. A beacon of inspiration for both Buddhists and non-Buddhists, he has persistently reached out across religious lines and to political leaders and scientists in dialogues advancing peace and understanding. For sixty years, he was the political leader of the Tibetan people, and in 1989 he was awarded the Nobel Peace Prize for his efforts to secure a peaceful resolution to the Chinese occupation of his homeland. Dom Laurence Freeman, OSB, is spiritual head of the World Community for Christian Meditation. Thupten Jinpa Langri has been the principal English-language translator to the Dalai Lama since 1985. He has translated and edited many books by the Dalai Lama. He is currently the president and the editor-in-chief of the Institute of Tibetan Classics and currently chairs the Mind and Life Institute.