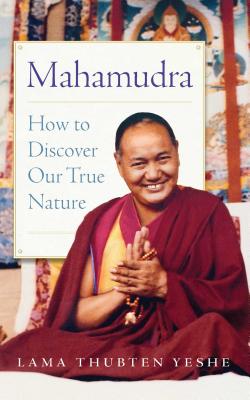 Mahamudra
How to Discover Our True Nature
Paperback

* Individual store prices may vary.
Description
Relish these direct, experiential meditation instructions from the author of the bestselling Introduction to Tantra.

Lama Yeshe tells us that mahamudra is "the universal reality of emptiness, of nonduality" and its unique characteristic is its emphasis on meditation: "With mahamudra meditation there is no doctrine, no theology, no philosophy, no God, no Buddha. Mahamudra is only experience."

He relies on the First Panchen Lama's well-known Root Text of Genden Mahamudra, which in a few short pages provides the pith instructions for, first, overcoming distraction and resting in meditative stillness on the clarity of one's own mind, and then, with subtle awareness, penetrating its ultimate nature, its emptiness.

As always, Lama Yeshe's words are direct, funny, and incredibly encouraging. He gets us to go beyond ego's addiction to a limited sense of self and to taste the lightness and expansiveness of our own true nature.
Praise For Mahamudra: How to Discover Our True Nature…
"This is a beautiful book. It was Lama Yeshe's unique genius to be able to render difficult matters in simple, joyous, and encouraging language. In Mahamudra: How to Discover Our True Nature, he does that once again, offering us profound guidance about Mahamudra practice and the experience of emptiness as only someone with his deep meditative accomplishments and immense heart could do. How happy I am to hear his voice again here. Venerable Robina Courtin's remarkably skillful editing has done us all a great kindness. May we listen to these marvelous teachings in the way they were originally offered, with great joy and pleasure."

— Jan Willis, author of Dreaming Me: Black, Baptist and Buddhist—One Woman's Spiritual Journey

"While the Gelug tradition generally emphasizes extensive study of Dharma followed by analytical meditation, in his classic teachings on Mahamudra, Panchen Lama Losang Chokyi Gyaltsen suggests first achieving shamatha and on that basis seeking the view of emptiness. Lama Thubten Yeshe provides in this volume a wonderfully lucid, inspiring explanation of this experiential way of exploring the true nature of the mind, for which the achievement of samadhi is an indispensable prerequisite. Indeed, as he declares, 'Without perfect samadhi, then, there is no way to become liberated from samsara and no way to achieve enlightenment.' This is a clarion call for all those, Buddhist and otherwise, who are seeking a path of spiritual awakening."
— B. Alan Wallace, President of the Santa Barbara Institute for Consciousness Studies

"When I first heard Lama Yeshe speak in 1973, I thought that the place had been struck by an earthquake. He was one of those rare masters who had that kind of power in his presence. He also had the rare talent of being able to teach the most profound aspects of the enlightenment tradition with a most direct and simple language, drawing students into an immediate experience. This small book on Mahamudra, a transmission often referred to as 'the highest teachings of the Buddha,' very wonderfully captures that direct power of the living enlightenment transmission."
— Glenn Mullin, author of The Fourteen Dalai Lamas: A Sacred Legacy of Reincarnation
Wisdom Publications, 9781614293958, 176pp.
Publication Date: September 25, 2018
About the Author
Lama Thubten Yeshe (1935–84) was born in Tibet and educated at the great Sera Monastic University. He fled the Chinese occupation of his country in 1959. In the late 1960s, with his chief disciple Lama Thubten Zopa Rinpoche, he began teaching Buddhism to Westerners at Kopan Monastery, Kathmandu, Nepal. In 1975 they founded the international Buddhist organization the Foundation for the Preservation of the Mahayana Tradition (FPMT), which now has more than 160 centers, projects, and services worldwide.


Ordained since the late 1970s, Ven. Robina Courtin has worked full time since then for Lama Thubten Yeshe and Lama Zopa Rinpoche's FPMT. Over the years she has served as editorial director of Wisdom Publications, editor of Mandala Magazine, executive director of Liberation Prison Project, and as a touring teacher of Buddhism. Her life and work have been featured in the documentary films Chasing Buddha and Key to Freedom.