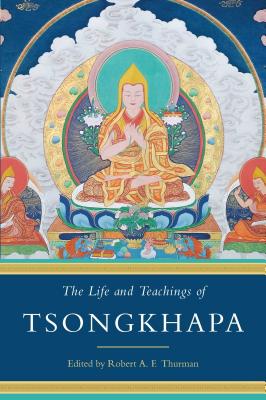 The Life and Teachings of Tsongkhapa (Paperback)
Wisdom Publications, 9781614294276, 296pp.
Publication Date: June 12, 2018
* Individual store prices may vary.
Description
A must-read for students of Tibetan Buddhism,
The Life and Teachings of Tsongkhapa
provides a thorough exploration of the great teacher's wisdom. In
The Life and Teachings of Tsongkhapa
, you'll discover Tsongkhapa's teachings on
transcendental aspects of sutra, tantra, and insight meditation, mystic conversations with great bodhisattvas, deeply spiritual songs in praise of Ma?jushri and Maitreya, and much more.
The anthology concludes with a number of intensely moving songs in praise of Tsongkhapa and his immeasurable contribution to Tibetan Buddhism by such realized and remarkable Tibetan Buddhists as the Seventh Dalai Lama, the Eighth Karmapa, Dulnagpa Palden, and Khedrup Je. This edition has been substantially corrected by Robert Thurman and contains a new introduction and a bibliography of all the works referenced in the text.
About the Author
Robert Thurman is the Jey Tsong Khapa Professor of Indo-Tibetan Buddhist Studies in the Department of Religion at Columbia University, the president of Tibet House US, a nonprofit organization dedicated to the preservation and promotion of Tibetan civilization, and president of the American Institute of Buddhist Studies, a nonprofit affiliated with the Center for Buddhist Studies at Columbia University and dedicated to the publication of translations of important artistic and scientific treatises from the Tibetan Tengyur. He is considered the leading American expert on Tibetan Buddhism and is the author of many books on Tibet, Buddhism, art, politics, and culture, including The Central Philosophy of Tibet, Circling the Sacred Mountain, Essential Tibetan Buddhism, The Tibetan Book of the Dead, Wisdom and Compassion: The Sacred Art of Tibet, Worlds of Transformation, Inner Revolution, Infinite Life, The Jewel Tree of Tibet, Why the Dalai Lama Matters, and with Sharon Salzberg, Love Your Enemies.