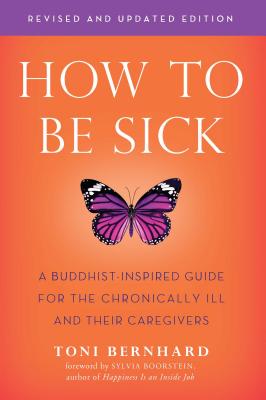 How to Be Sick (Second Edition) (Paperback)
A Buddhist-Inspired Guide for the Chronically Ill and Their Caregivers
Wisdom Publications, 9781614294788, 256pp.
Publication Date: September 25, 2018
* Individual store prices may vary.
Description
A brand-new edition of the best-selling classic with added and updated practices.

In 2001, Toni Bernhard got sick and, to her and her partner's bewilderment, stayed that way. As they faced the confusion, frustration, and despair of a life with sudden limitations—a life that was vastly different from the one they'd thought they'd have together—Toni had to learn how to be sick. In spite of her many physical and energetic restrictions (and sometimes, because of them), Toni learned how to live a life of equanimity, compassion, and joy. This book reminds us that our own inner freedom is limitless, regardless of our external circumstances.

Updated with new insights and practices hard-won from Toni's own ongoing life experience, this is a must-read for anyone who is—or who might one day be—sick or in pain.
About the Author
Toni Bernhard fell ill on a trip to Paris in 2001 with what doctors initially diagnosed as an acute viral infection. She has not recovered.

In 1982, she'd received a J.D. from the School of Law at the University of California, Davis, and immediately joined the faculty where she stayed until chronic illness forced her to retire. During her twenty-two years on the faculty, she served for six years as dean of students.

In 1992, she began to study and practice Buddhism. Before becoming ill, she attended many meditation retreats and led a meditation group in Davis with her husband.

She lives in Davis with her husband, Tony, and their hound dog, Rusty.

Toni can be found online at www.tonibernhard.com.