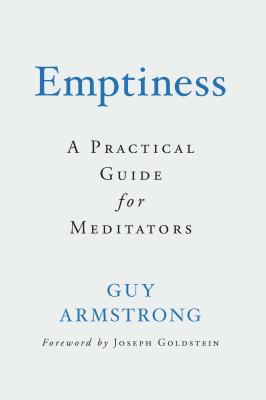 Emptiness (Paperback)
A Practical Guide for Meditators
Wisdom Publications, 9781614295266, 328pp.
Publication Date: August 7, 2018
Other Editions of This Title:
Hardcover (5/2/2017)
* Individual store prices may vary.
Description
A richly informed, practical guide to Buddhism's most subtle teaching.

Guy Armstrong has been a leading figure and beloved teacher of insight meditation for decades. In this book, he makes difficult Buddhist topics easy to understand, weaving together Theravada and Mahayana teachings on emptiness to show how we can liberate our minds and manifest compassion in our lives.


Praise For Emptiness: A Practical Guide for Meditators…
"Armstrong's book is an insightful exploration of one of the most confusing Buddhist teachings; inexperienced and experienced practitioners alike will find it very rewarding and thought-provoking."

"For anyone seeking to understand emptiness, this is a clear and fine guidebook, with precise and practical ways to explore and deepen your practice."

"Emptiness is a brilliant and practical introduction to the practice and attainment of liberation. Encapsulating Guy Armstrong's decades of dedicated Buddhist practice and study, Emptiness presents profound Buddhist teachings and describes ways practitioners can experience them for themselves. This is an important foundation for anyone interested in the meditation practices of Buddhism."

"Over the centuries, the term "emptiness" has taken on a number of meanings in Buddhism. It is also widely misunderstood, leading people to see Buddhism as nihilistic or life-denying. In Emptiness, Guy Armstrong, a guiding teacher at the Insight Meditation Society, unpacks this concept in a straightforward and practical manner, inviting readers to discover its liberating truth through their own direct experience."

"Emptiness: A Practical Guide for Meditators is thoroughly 'reader friendly' in organization and presentation, making it an ideal and valued addition to community and academic library Buddhism collections in general, and Buddhist Mediation supplemental studies lists in particular."