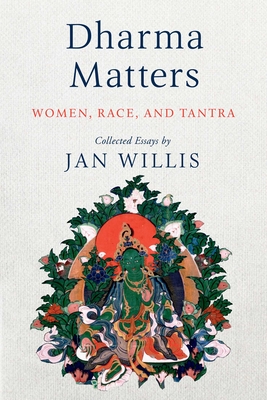 Dharma Matters
Women, Race, and Tantra
Paperback

* Individual store prices may vary.
Description
A powerful collection of essays on race and gender in contemporary Buddhist practice, a hot-button topic in the West right now, by one of the leading thinkers in the area.

Jan Willis was among the first Westerners to encounter exiled Tibetan teachers abroad in the late sixties, instantly finding her spiritual and academic home. TIME Magazine named her one of six "spiritual innovators for the new millennium," both for her considerable academic accomplishments and for her cultural relevance. Her writing engages head-on with issues current to Buddhist practitioners in America, including dual-faith practitioners and those from marginalized groups.

This collection of eighteen scholarly and popular essays spans a lifetime of reflection and teaching by Willis. Grouped in four sections—Women and Buddhism, Buddhism and Race, Tantric Buddhism and Saints' Lives, and Buddhist-Christian Reflections—the essays provide timeless wisdom for all who are interested in contemporary Buddhism and its interface with ancient tradition.

"This collection of essays by Jan Willis, penned over thirty years of study, teaching, and practice, is destined to become an authoritative resource in Buddhist scholarship and thought. Willis challenges many of our preconceptions, but asks no more and no less than what the Buddha asked: come, see, and experience for yourselves."
—Sharon Salzberg, author of Lovingkindness and Real Happiness

"From Birmingham to Bodhgaya, Jan bridges worlds like no other. Her essays are treasures of wisdom born from a remarkable life richly lived."
—Matthew T. Kapstein, author of Reason's Traces: Identity and Interpretation in Indian and Tibetan Buddhist Thought

"This book is a blessing for us all—across cultures, across genders, across traditions."
—Larry Yang, author of Awakening Together: The Spiritual Practice of Inclusivity and Community
Praise For Dharma Matters: Women, Race, and Tantra…
"For half a century this wise professor-scholar, conscious feminist, deeply dedicated practitioner, and icon of genuine diversity has taught Buddha Dharma. The beautiful fruit of her work is visible here."
— Jack Kornfield, PhD, author of A Path with Heart

"Jan Willis has practiced, reflected, and taught at one of the most important crossroads of American Buddhist life—the intersection of the activism of the Civil Rights movement and feminism, of Buddhist meditation with authentic Tibetan masters, and of the academic translation of Buddhism. This collection of her pioneering essays reveals her at once as a brilliant visionary, a pristine scholar, a heartfelt Vajrayana practitioner, and an incisive social commentator in the twenty-first century. What ties these together is her wise heart."
— Judith Simmer-Brown, Distinguished Professor of Contemplative and Religious Studies, Naropa University, and author of Dakini's Warm Breath: The Feminine Principle in Tibetan Buddhism

"Wisdom flows from every page of Jan Willis's Dharma Matters. Her clarity of thought and insight remarkably expands the academic discourse of Buddhism into sacred conversations about gender, Buddhism, and race. Her art of storytelling and her voice bring Buddhism to life in a new way that offers hope for the present day and keeps the tradition alive for practitioners across the planet. Her scholarship sings with a deep resonance that rocks the soul and awakens the heart-mind. This powerful collection of essays is a cherished gift reflective of an incredible life of scholarship, spiritual activism, and devoted practice."
— Melanie L. Harris, American Council of Education Fellow and Professor of Religion and Ethics at Texas Christian University, author of Gifts of Virtue, Alice Walker, and Womanist Ethics

"Jan Willis—beloved teacher, learned scholar, pioneering practitioner-translator, cultural activist—is a national living treasure. With magisterial grace, wit, insight, wisdom, and compassion, she ranges in these eighteen diverse essays over vitally important topics of gender, Dharma, race, tantra, and liberation. In a rare yet inclusive achievement, she has kept faith with all her ancestors."
— Gaylon Ferguson, PhD, Acharya and Core Faculty in Religious Studies, Naropa University

"This wonderful collection of essays and studies testifies not only to Professor Willis's achievements as a scholar with multiple interests but also, in the more personal essays, to her dedication to teaching and her role as a pioneering African American Buddhist whose call for greater inclusiveness in American Buddhism is always enfolded in love, compassion, and plain human decency."
— Ven. Bhikkhu Bodhi, translator and scholar

"In Dharma Matters, Dr. Willis weaves together personal, historical, cultural, religious, and universal wisdom, eloquently and tenderly offering a textured tapestry of intelligence and transformation. In this heartwarming and sagacious book, we are invited to recognize the green and golden threads of women and race wrapped in the warmth and timeless wisdom of the Dharma."
— Ruth King, author of Mindful of Race: Transforming Racism from the Inside Out

"It is rare for a professor's mastery of teaching to shine through their scholarship so vividly as in this welcome collection of Jan Willis's work. Accessible, insightful, and warmly engaging, this volume demonstrates the range of her unique academic contributions while exemplifying her commitments to teaching, self-exploration, and self-discovery, which brightened the minds of countless students and inspired a whole new crop of professional Buddhologists to emerge from among them."
— Daniel A. Hirshberg, PhD, University of Mary Washington

"For longtime fans of Jan Willis such as myself, it is a treat to have these essays gathered in one place. Her style of fine scholarship coupled with her unique personal touch and lifelong experiences will also delight new readers. There are important and even urgent issues discussed in these pages; the section on Buddhism and race is a rare contribution to a field with far too few resources for concerned practitioners and researchers. I would definitely assign the whole book if I still taught at a university. I hope others will."
— Sarah Harding, Tibetan translator and author of Machik's Complete Explanation

"Few Western Buddhist scholar-teachers of the past half-century have bridged so many worlds, and so successfully, as Jan Willis. She has helped pioneer the study of such key topics as Indian Buddhist understandings of reality, the nature of Tibetan biography, and Vajrayana meditation. She also has delved deeply into current conversations surrounding such difficult issues as Buddhism's relation to race, gender, and interreligious relations. Dharma Matters brings together some of Willis's most notable essays on all these topics, and whether written thirty years ago or just recently, each one sparkles with her inimitable voice—full of clarity, passion, intelligence, and self-awareness. No one interested in contemporary Buddhism—or its interface with older traditions—should be without this fine collection."
— Roger R. Jackson, author of Mind Seeing Mind: Mahamudra and the Geluk Tradition of Tibetan Buddhism

"This collection of essays reflects the extraordinary range of Jan Willis's scholarly voice and her authentic quest to make studies of Buddhism significant to students and a variety of academic audiences. She writes to underline the large, often neglected role of women in Buddhist history and to bring the Dharma into discussions of the original American sin of racism. Her scholarship on biographical literature highlights an important popular genre in Tibetan tradition, using prominent examples, and the discussions of Buddhist-Christian dialogue are rich in pedagogical and autobiographical insights. Hers is an authentic personal voice informed by scholarly acumen, lifelong meditative praxis, and deep engagement with her subjects. Jan Willis's essays unfailing invite creative (re)thinking of why Buddhism matters, from scholars to practitioners."
— Todd T. Lewis, Distinguished Professor of Arts and Humanities, College of the Holy Cross

"This new book by Dr. Jan Willis is not only a must-read for all Buddhists interested in an unbiased inside look at gender issues in Buddhism; it is a delightful read that jumps off the page. It is a clear window into the many great contributions to the legacy of enlightenment made by Buddhist women in India and Tibet over the centuries, as well as some of the challenges that these women faced because of their gender. Put ten copies on your shopping list, and share the gentle wisdom of this African American female sage."
— Glenn Mullin, author of 25 books on Tibetan Buddhism

"A dip-into book that reveals gems of erudition and fascination in the historical development of Buddhism. Whether your interest is gender, race, tantra, or insight into Dr. Jan Willis's own spiritual journey from a black Southern Baptist to a Tibetan Buddhist, you will be greeted by a rich fare of well-researched information."
— Vicki Mackenzie, author of Cave in the Snow, The Revolutionary Life of Freda Bedi, and other titles

"People (mainly professors) write books about philosophy, religion, race, and feminism. The best of them impart knowledge, but in a book by Jan Willis, she shares herself and her wisdom as well as her knowledge. It is a rare and rewarding experience."
— Allen Wood, Indiana University Bloomington

"This volume of essays exemplifies the life and work of Prof. Jan Willis, a scholar-practitioner and teacher extraordinaire. The essays express her heartfelt and insightful reflections on a lifelong journey from the Jim Crow South of her childhood, into the contemporary and historical worlds of Buddhist South Asia, and back to an emerging American Buddhism. Though based on intrepid and innovative research, it is Willis's gift for storytelling that transports the reader into the 'lived worlds,' the human dimensions, of her varied subjects—be they contemporary African American Buddhists (or 'Baptist-Buddhists' such as herself), Buddhist women both ancient and modern, or Tantric Buddhist practitioners whose contemporary or exemplary lives (rnam thar) she has illuminated with empathic understanding."
— William Waldron, Middlebury College

"In Dharma Matters, beloved teacher Jan Willis blends warm, masterful storytelling with rigorous research and deep wisdom. The result is an educational, inspirational book that gives voice to a unique, academic-practitioner, Buddhist-Baptist perspective on the pressing cultural and spiritual issues of our time—women, gender, race, truth, freedom, and love."
— Pamela Weiss, author of A Bigger Sky: Awakening a Fierce Feminine Buddhism

"Dharma Matters offers us the depth and breadth of Jan Willis's work in over thirty-five years in the academy. With forewords by the African American Buddhist and National Book Award–winning writer Charles Johnson and by the renowned Buddhist studies scholar Janet Gyatso, this volume includes Willis's essays on Buddhist nuns, on African American and American Buddhism, on the role of love as a Baptist-Buddhist, and on teaching Buddhism. This collection is incredibly valuable for Buddhist studies, African American studies, and Religious studies."
— Carolyn Jones Medine, University of Georgia

"In Tibet it is customary to gather together the collected works of prominent lamas. It is fitting that we should do something similar to honor Jan Willis, one of our own great teachers whose work has benefited so many. This volume is a testament to the depth and breadth of Willis's engagement with Tibetan Buddhism and with issues of race, gender, and identity."
— Brandon Dotson, McKenna Chair of Buddhist Studies, Georgetown University

"Dr. Jan Willis is a remarkable practitioner-academic whose work is easily accessible and responsive to both practitioners and academics. This collection allows us to join her inquiry of Buddhist practice and faith and the various intersections that have often been ignored. It is a treasure reflecting a deep knowledge and respect for the fact that without faith, practice, and study, Buddhism would cease to exist."
— Bishop Myokei Caine-Barrett, Nichiren Shu Order of North America

"Insightful and reflective, covering not only her personal journey into Buddhist studies over the past fifty years but also topics central to the field as a whole, Willis's collection of essays are as relevant and engaging today as they were when she first composed them, speaking with a voice that inspires readers to reflect on a wide range of issues in both society and their own personal lives."
— Paul G. Hackett, Columbia University

"Dr. Jan Willis is a pioneering voice gently cutting through superficiality in both traditional and popular notions of scholarship. In this collection, you will find each essay to be a precious jewel shining light on the engaging topics of women and Buddhism, Buddhism and race, Tantric Buddhism and Buddhist saints' lives, and Buddhist-Christian comparative reflections. This book is a compelling, socially grounded witness to embodied and engaged spirituality, to the intersectionality of human suffering, and to the transcendent healing power of looking deeply into topics that matter.
"Dr. Willis first came to my attention while completing my doctorate in Religious studies with an emphasis on Buddhism. As both a Baptist minister and Buddhist Dharma teacher, I yearn for such essays as these offered by Dr. Willis, which are offered with joyful wisdom. If you desire an uplifting companion on your life journey, Dharma Matters is a worthy guide. Do not miss this book."
— Larry Ward, PhD, director of the Lotus Institute, coauthor of Love's Garden: A Guide to Mindful Relationships

"As a black feminist scholar-practitioner, Jan Willis has been a unique voice in American Buddhism. This collection provides a welcome overview of her important contributions in many different areas."
— David R. Loy, author of Ecodharma: Buddhist Teachings for the Ecological Crisis
Wisdom Publications, 9781614295686, 384pp.
Publication Date: April 21, 2020
About the Author
Jan Willis's distinguished career as a scholar and teacher of Buddhism spans fifty years, including thirty-six years at Wesleyan University. Coming from Birmingham, Alabama, a child of Jim Crow, she marched there with Dr. King in 1963. She first met Tibetan Buddhists in India and Nepal when she was nineteen. While traveling through Asia during the early 1970s, she became a student of Lama Thubten Yeshe, who encouraged her academic pursuits. She went on to earn degrees in philosophy and Indic and Buddhist Studies from Cornell and Columbia Universities, and has published widely on Tibetan Buddhism, women and Buddhism, Buddhism and race, Buddhist meditation, and hagiography. She has studied with Tibetan Buddhists in India, Nepal, Switzerland, and the United States for five decades. In 2000 Time magazine named Willis one of six "spiritual innovators for the new millenium."

She is the author of The Diamond Light: An Introduction to Tibetan Buddhist Meditation; On Knowing Reality: The Tattvartha Chapter of Asanga's Bodhisattvabhumi; Enlightened Beings: Life Stories from the Ganden Oral Tradition; Dreaming Me: Black, Baptist, and Buddhist—One Woman's Spiritual Journey; and the editor of Feminine Ground: Essays on Women and Tibet.