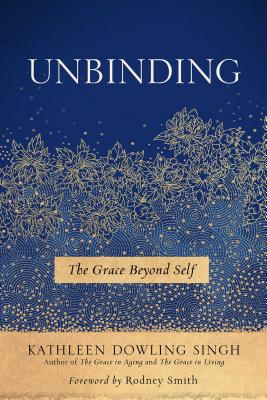 Unbinding (Paperback)
The Grace Beyond Self
Wisdom Publications, 9781614295709, 288pp.
Publication Date: January 15, 2019
Other Editions of This Title:
Hardcover (10/3/2017)
* Individual store prices may vary.
Description
An invitation to everyday mystics: unbind yourself from the causes of suffering and step into grace.

"We all want the freedom of sanity and peace, the undefended inclusiveness of love. We all want refuge in grace."
—Kathleen Dowling Singh, from her introduction to Unbinding

Unbinding is a spacious and sophisticated unfolding of one of Buddhism's subtlest foundational teachings—the truth of dependent origination—offered in an utterly intimate voice. Kathleen Dowling Singh offers lyrical reflections on timeless truths and contemplative exercises accessible to anyone, opening the door of insight to all. Drawing on the language and teachings of Buddhism, Unbinding invites everyday mystics from all traditions—or none—to encounter the sacred and experience grace firsthand. Singh shows how illusions of ego obscure our true, unbounded nature and trap us in suffering—as she helps the reader move ever more deeply into living from gratitude, wisdom, and love.
About the Author
Kathleen Dowling Singh was trained academically in transpersonal psychology and worked as a mentor for deep psychospiritual growth work. She lectured widely throughout the United States on spirituality at the end of life, spiritual transformation in the midst of life, and meditative and contemplative practices.

She was the author of The Grace in Dying: How We Are Transformed Spiritually As We Die, a book named one of Amazon's Top Ten Books in Spirituality the year it was published and recognized as a landmark in the field. The Grace in Aging: Awaken As You Grow Older has struck a chord with sincere practitioners who wish to use their aging years for spiritual maturation and ripening. It was named one of the best of 2014 by Spirituality and Practice Magazine. She passed away in 2017.
Praise For Unbinding: The Grace Beyond Self…
"Beautifully written, Unbinding inspires the reader to let go, to let be."
— Sharon Salzberg, author of Real Love

"Unbinding is a rare accomplishment. In this book, Kathleen Dowling Singh has explored one of the most profound aspects of the Buddha's teachings—The Law of Dependent Origination. She brings to life the patterns of conditioning that limit us when not understood and free us as we more fully realize how they operate in our lives. With clarity and grace, she invites the reader into its world of transforming wisdom. Unbinding is a great contribution to our deepening Dharma understanding."
— Joseph Goldstein, author of Mindfulness

"Everything is a gift, but nothing's free,' wrote Huston Smith, the historian of religions. In Unbinding, Kathleen Dowling Singh elaborates on similar truths that deal with our efforts to understand our true nature. Do not think this book is a labyrinthine exercise shrouded in mysticism. It is utterly practical, because our future on this planet likely depends on our right understanding of ego, self, and essence."
— Larry Dossey, MD, author of One Mind

"I always feel at home in Kathleen Dowling Singh's books because she writes with such gentle clarity. This book is no exception. Here, she "unbinds" some of the Buddha's more complex teachings, such as dependent arising, making them accessible to Buddhists and non-Buddhists alike. With exquisite prose, she explains how the delusion that our "self" is the whole of reality leads to needless suffering. She offers a doorway out—a practical path to freedom and unbounded love. I recommend Unbinding most highly."
— Toni Bernhard, author of How to Be Sick

"Unbinding tells the simple and most profound story of the journey to freedom, from being bound by the ego to living in grace, unbound. Kathleen Singh shows us the many ways we imprison ourselves, through habits, attachments, cravings, while she gives us the teachings that can free us, open us to awe and gratitude. Here is ancient mystical wisdom told in the language of today, showing how every moment we are limitless, present in truth. Listen to this heart song that calls us home."
— Llewellyn Vaughan-Lee PhD, Sufi teacher and author of Spiritual Ecology

"With poise and grace, Singh shows us not only how we are bound and how to become unbound, but she also points us to that in the human spirit which has never been bound, never been wounded, has always been an un-selfed shining freedom—the radiant ground that is our diamond life."
— Martin Laird, author of Into the Silent Land