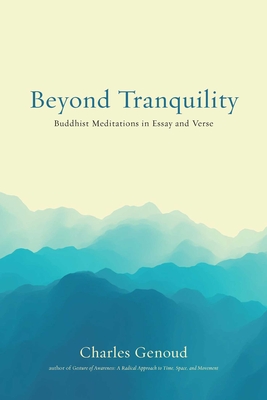 Beyond Tranquility
Buddhist Meditations in Essay and Verse
Paperback

* Individual store prices may vary.
Description
One of Buddhism's most respected authors inspires readers with a creative and intriguing journey into the heart of Buddhist meditation practice.

Beyond Tranquility is an invitation to inner experience. In these pages, one of Buddhism's most respected scholar-sages creatively distills decades of practice, reflection, and teaching into essential truths. Touching on the full scope of core Buddhist philosophical and meditation traditions, Charles Genoud draws on ancient Buddhist suttas, masters like Nagarjuna and Dogen, and even seers and philosophers such as Eckhart, Nietzsche, and Sartre, as well as the great innovators of the modern novel and modern dance. Weaving together the wisdom of these great minds in a poetic style uniquely his own, Genoud invites you into the heart of Buddhist meditation and practice. Here, with the immediacy and wry humor of haiku, he proves an astute and subtle guide to the pitfalls and paradoxes that eventually confront every meditator, and to the most skillful ways through them.

Genoud's powerful, experiential language transmits the meditative experience rather than merely describing it—and his style will resonate with the teachings of Zen and Dzogchen, the writings of contemplative philosophers, and with dancers and other artists whose work is built upon a "body of presence."
Praise For Beyond Tranquility: Buddhist Meditations in Essay and Verse…
"Beyond Tranquility is an exceptional book. Drawing on his many years of study, meditation and contemplation, Charles Genoud both challenges and guides the reader in exploring the very nature of consciousness and freedom. His writing style is spare and poetic, not unlike some of the great haiku poets, and his insights and reflections deeply provocative and illuminating. Reading this book is a meditation in itself, with the potential to awaken new and liberating understandings within ourselves. Highly recommended."
— Joseph Goldstein, author of Mindfulness: A Practical Guide to Awakening

"This book is a sutra for this modern age—a must-have for meditators. Genoud's voice invites us right into the heart of wisdom, where transformation becomes possible in this very moment."
— Lama Willa Miller, author of Everyday Dharma

"Dharma can be lightened and sweetened till it goes down like elevator music. It can thrash and wail like punk. Here, it's like Bach—not whispering, not shouting, but unfolding from within itself, with the steady, implacable rhythms of elemental truth in the act of discovering itself. Genoud drills deep. This is not a solemn book but it's a serious one. You can't whip through it like a spiritual beach novel. Read each paragraph or stanza slowly and contemplatively (and, when necessary, repeatedly). Most of all, bring its insights into your practice and your life."
— Dean Sluyter, author of Fear Less and Natural Meditation

"Charles Genoud doesn't just explain Buddhist principles of awakening, but evokes awakened awareness out of his readers. His words pull us out of the frameworks we have mistaken for reality and draw us into deepening intimacy with the nature of experience where inmost freedom is found. Genoud speaks directly from the naked awareness to which he points, giving tremendous immediacy and freshness to every sentence of this amazing work."
— John Makransky, author of Awakening through Love

"Beyond Tranquility is a precious and insightful reflection on bondage and freedom. This book deserves wide readership."
— Christopher Titmuss, cofounder of Gaia House and author of Buddhist Wisdom for Daily Living
Wisdom Publications, 9781614295815, 248pp.
Publication Date: January 28, 2020
About the Author
Charles Genoud has studied and practiced Tibetan Buddhism since 1970. For a number of years, he studied with Geshe Rabten, and then continued under the guidance of Dilgo Khyentse Rinpoche. At the Institute of Buddhist Dialectics in Dharamsala, India, he studied psychology, epistemology, and Buddhist logic. He has also practiced in the Theravadan tradition in monasteries in Burma and Thailand, and in meditation centers in Nepal, the United States, England, and France. He has taught meditation since 1995.