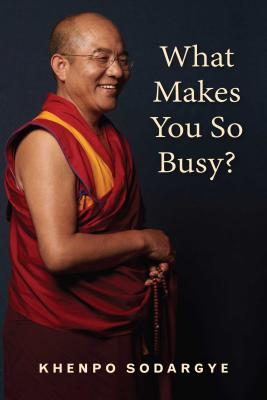 What Makes You So Busy? (Paperback)
Wisdom Publications, 9781614295846, 220pp.
Publication Date: December 10, 2019
* Individual store prices may vary.
Description
A Tibetan Buddhist lama gives advice on the issues facing people in the modern world.

In this book, Khenpo Sodargye, a world-famous Tibetan Buddhist lama and scholar, offers guidance on an issue that troubles so many of us in the modern world:

What is true happiness, and how do we achieve it?

Bombarded with information, endlessly pursuing possessions—we look for happiness in all the wrong places. Khenpo Sodargye, one of the busiest Buddhist teachers in the world, shows us how to redirect our attention away from such distractions and instead calm our minds and find true contentment. His wide-ranging advice covers careers and conventional notions of material success, romantic relationships, and the environment. Erudite and compassionate, he points the reader to inspiration from sutras, Zen masters, Confucius, and the daily news, offering warm, heartfelt encouragement for these troubled times.
About the Author
Khenpo Sodargye was born in Tibet in 1962. He spent his early years herding yaks, and after attending Garzé Normal School entered Larung Gar Buddhist Institute in Sêrtar, becoming a monk in 1985 under the great Jigme Phuntsok Rinpoché. Khenpo served Rinpoché as his personal and teaching interpreter on overseas tours in Asia, Europe, and North America, as well as at Larung Gar. He has taught and translated the Dharma for over thirty years and has lectured on Buddhism and social issues in over a hundred universities around the world. He is one of the leading scholars at Larung Gar and has popularized Tibetan Buddhism among Han Chinese students with numerous bestselling books.