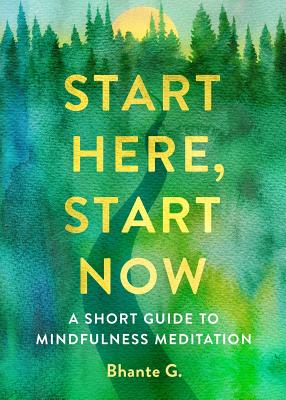 Start Here, Start Now (Paperback)
A Short Guide to Mindfulness Meditation
Wisdom Publications, 9781614296270, 168pp.
Publication Date: November 5, 2019
* Individual store prices may vary.
Description
A new book distilling Wisdom's definitive masterpiece on mindfulness and all-time bestseller,
Mindfulness in Plain English
, down to a pocket-sized guide with everything you need to get started practicing mindfulness right now.
In a clear, friendly voice, this concise collection of beloved and renowned meditation master Bhante G's bestselling instructions will teach you everything you need to know to start—and maintain!—your mindfulness meditation practice. The book includes practical advice on
What to do with the body and mind in meditation;
What to do when the mind wanders and how to work with distraction;
How to deal with physical discomfort in meditation;
How to overcome drowsiness, boredom, and inability to concentrate;
How to work with fear and agitation, judgments, and self-criticism;
How to avoid trying too hard, expecting too much, or getting discouraged;
11 common misconceptions about meditation;
10 tips for effective practice;
and how to get the most out of your practice.
About the Author
Bhante Gunaratana was ordained at the age of twelve as a Buddhist monk in Sri Lanka, earned his PhD in philosophy from The American University, and has led meditation retreats, taught Buddhism, and lectured widely throughout the United States, Canada, Europe, and Australia. He's the bestselling author of Mindfulness in Plain English, Loving-Kindness in Plain English, and Eight Mindful Steps to Happiness—and numerous other books.
Praise For Start Here, Start Now: A Short Guide to Mindfulness Meditation…
"Bhante G. presents classical Buddhist teachings with total integrity, yet his expression is contemporary and understandable by anyone. This potent book doesn't just give you the tools you need to get started on your meditation practice; it gives you the tools you will need to stay with it when the going gets tough."
— David Nichtern, author of Awakening From the Daydream and Creativity, Spirituality and Making a Buck

"For beginners, this book will support you to develop an informed practice. And for the seasoned meditator, you'll be reminded of the important nuances so easily forgotten. I foresee both new and long-term practitioners returning to this book over and over for inspiration and wisdom."
— Tamara Levitt, Head of Mindfulness at Calm

"This book is a joy and a companion, full of kind guidance and clarity."
— Sensei Koshin Paley Ellison, author of Wholehearted: Slow Down, Help Out, Wake Up and co–guiding teacher of the New York Zen Center for Contemplative Care

"Beginners will find [Start Here, Start Now] a highly accessible and insightful guide to mindfulness meditation, and even experienced practitioners may find this text useful for revisiting the basics."
— Publishers Weekly