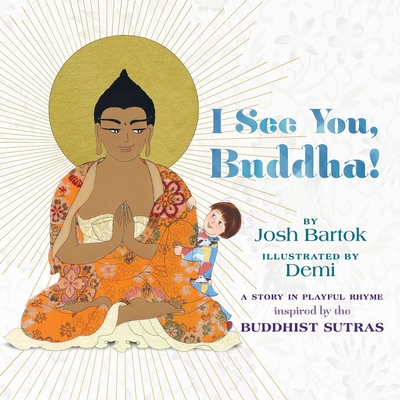 I See You, Buddha
Hardcover

* Individual store prices may vary.
Description
If Dr. Seuss were drawing on classical Buddhist texts for inspiration, this is what he'd write—with playful yet traditional illustrations by the award-winning artist behind The Empty Pot, whose books have sold half a million copies. Destined to be a classic.

An instant classic, this book will help children (and their parents) learn patience and to see the good in everyone—including themselves! It will also help children meet difficult circumstances, such as being sick, doing chores, and not getting everything they want—and help them overcome low self-esteem and negative self-talk.

I See You, Buddha is based on a chapter in the Lotus Sutra, one of the most influential Buddhist texts worldwide—a classical scripture that has inspired a whole genre of works, especially in Japan, known as Lotus Literature. The Lotus Sutra teaches the way of the bodhisattva—a being engaged in compassionate, enlightened activity in the service of all—by offering examples of what this activity might look like in the world. One such model in the text is Bodhisattva Never Disrespectful (or Never Disparaging), who, despite troubling encounters with and even harsh treatment from others, bows down respectfully to everyone, recognizing their Buddha nature and honoring their own journeys along the bodhisattva path to enlightenment—whether they know they're future buddhas or not!
Praise For I See You, Buddha…
"Like Dr. Seuss, Josh Bartok has mastered the art of reaching directly into a child's heart and mind, translating a profound teaching on love into playfully whimsical rhythm and rhyme. The ability to inspire children—to really connect and awaken young hearts—is rare. And Demi's paintings are amazingly detailed; warm, inviting and fun to explore! Together, Bartok and Demi have created one for the ages. This is truly wonderful!"
— Kerry Lee MacLean, author of Moody Cow Meditates and Peaceful Piggy Meditation

"I truly love this book—I fell in love with it from the very first page. The illustrations are stunning and the author's gentle yet profound words go straight to the heart. Children will immediately understand how, right here and now, they can start being kind to others as well as to themselves. I'm an adult—and I benefited tremendously from this book. It's become one of my favorites."
— Toni Bernhard, author of How to Be Sick and How to Live Well

"I wish I'd had this book when I was small and the world was so . . . big. It would have meant so much to me to have received this message as a child. Beautiful and touching—a balm for the heart."
— James V. Cordova, PhD, author of The Marriage Checkup and The Story of Mu

"A magical book. Poetic, playful, and psychologically adept."
— Sumi Loundon Kim, author Sitting Together: A Family-Centered Curriculum on Mindfulness, Meditation, and Buddhist Teachings

"With its uplifting lyrical rhyme and pictures that dance off the page, I See You, Buddha brought tears to my eyes. Its simplicity and profound message of respect for all will delight children and adults alike."
— M. LaVora Perry, actor and author of Taneesha Never Disparaging

"A book to be cherished—its child-friendly message is buoyed by the wonder of Demi's iconic artistry. Illuminating, heartwarming, and uplifting of hearts and minds."
— Lauren Alderfer, author of Mindful Monkey, Happy Panda

"This charming, sweet book is a beautifully illustrated guide for living with kindness to oneself and all beings. A lovely book for children of all ages. I bow to the authors and all its readers."
— Taigen Dan Leighton, author of Faces of Compassion and Zen Questions

"An excellent children's book that teaches the spirit of the bodhisattva."
— Shohaku Okumura, author of The Mountains and Waters Sutra

"Through lovely images and lively poetry, I See You, Buddha reminds us that the most important truths are those even a child can understand."
— John Brehm, editor of The Poetry of Impermanence, Mindfulness, and Joy

"For too long, there have been few examples to express good character in a Buddhist way for very young readers. This book captures the powerful story of Bodhisattva Never Disparaging found in the Lotus Sutra, and also points to the natural way children are able to share love and joy.
"Bodhisattva Never Disparaging exemplifies the simple act of loving respect; sharing this story with children is an endorsement of their natural ability for love, well illustrated by the simple gesture of palms together.
"This gentle, loving book would be a wonderful addition in any child's library—a delight in hearing the story told and in its telling. I imagine many nights of bedtime stories with this book, I See You, Buddha. We should all hear this every day."
— Bishop Myokei Caine-Barrett, Nichiren Shu Order of North America

"Full of joy and beauty—and deep truths about how to live our lives."
— Matty Weingast, The First Free Women and Awake at the Bedside

"An elegantly simple yet deeply profound story."
— Sara Marlowe, author of No Ordinary Apple
Wisdom Publications, 9781614296942, 32pp.
Publication Date: November 17, 2020
About the Author
Josh Bartok is an ordained Zen teacher, pastoral counselor, and editor of Dharma books with over twenty years of experience at Wisdom Publications and hundreds of books to his credit. He has a degree in Cognitive Science from Vassar College, and in Mental Health Counseling from University of Massachusetts—Boston. He's he author of the popular Daily Wisdom series, which includes Daily Wisdom, More Daily Wisdom, Nightly Wisdom, and Daily Doses of Wisdom; and are the co-author (with Ezra Bayda) of Saying Yes to Life (Even the Hard Parts). They're also an abstract expressionist photographer, and the founding spiritual director of the Greater Boston Zen Center, in Cambridge, Mass.

Demi was born in Cambridge, Massachusetts into a family of renowned artists, with painting in her blood. She studied at The Instituto Allende in Guanajuato, Mexico; with Sister Corita at Immaculate Heart College in Hollywood, California; at the M.S. University in Baroda, India, while on a Fulbright scholarship; and at the China Institute for Arts in New York City. Demi is the award-winning author and illustrator of over 300 bestselling children's books, including picture-book biographies of spiritual leaders such as Buddha, the Dalai Lama, Lao Tzu, Confucius, Gandhi, Jesus, Mother Teresa, Muhammad, Guru Nanak, and Hiawatha. Her titles have sold over two million copies. Numerous folktales such as The Empty Pot and Liang and the Magic Paintbrush transmit the wonder and magic of China. Her work has received many awards and accolades, among them the Christopher Award, which recognizes individuals whose work makes a positive difference in the world, and the Middle East Book Award. Her titles have also been designated American Library Association Notable Children's Books, New York Times Best Illustrated Books, Notable Books for a Global Society, and American Bookseller Pick of the List Books.