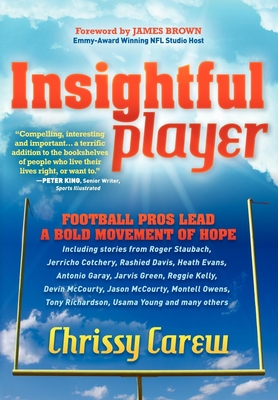 Insightful Player: Football Pros Lead a Bold Movement of Hope (Paperback)
Football Pros Lead a Bold Movement of Hope
Morgan James Publishing, 9781614480549, 300pp.
Publication Date: October 31, 2011
Description
Whether you are a parent, coach or teacher looking for a tool that can inspire and motivate, a fan interested in learning how players overcame obstacles to reach the NFL or just someone that enjoys reading poignant, inspiring stories, Insightful Player delivers.
Each Insightful Player story shows solid evidence of the immense power of the human spirit. We all need to be reminded of this, especially kids and especially now. Insightful Player brings to life how players that reached the NFL did so not only on their talent, but often because of the heroic acts they made to overcome life's obstacles.
A player's father was murdered when he was eight; he had to duck for cover in his home because bullets were flying on his street... Another player saw people shot as early as the age of five and often saw dead bodies on his street before his teens...A Hall of Fame player never had a winter coat or winter boots and didn't always have food to eat...A former player was put in classes for the mentally disabled, his father "beat the tar" out of him, his coaches wouldn't help him get into college because they said he had no talent....All of these players overcame these hardships to achieve a place in the NFL.
Each player's story provides a lesson in perseverance, values, courage and integrity. Insightful Player is a playbook for inspiring us all, especially our children. Use it to teach, inspire and learn.
About the Author
Chrissy Carew is a Master Certified Personal and Business Coach. This prestigious credential puts her in the top one percent of professional coaches world-wide. She has been inducted into the inaugural Hall of Fame by the International Coach Federation/ New England.

She coaches high integrity professional football players to maximize performance on and off the field. She also works with trailblazers who have an indomitable will and are relentless in their pursuit of elevating the world to awe-inspiring heights. She inspires her clients to reach for the ultimate state of human fulfillment by wholeheartedly embracing their gifts and ferociously sharing them with others.Insightful Player(TM) was inspired by Chrissy's role model and beloved, late father, Walter R. Carew Sr. He was a dedicated high school coach (in several Halls of Fame as a Head Football and Baseball Coach and athlete). He used sports to help kids build strong character and learn valuable life skills.She host a weekly Insightful Player(TM) TV show on minglemediatv.com.
Advertisement