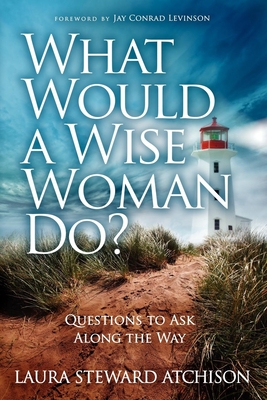 What Would a Wise Woman Do?
Questions to Ask Along the Way
Paperback

* Individual store prices may vary.
Description
Feeling stuck on autopilot, or totally off course? What if you could go back to key points in your life and ask different questions of yourself and others to change where you are today? Speaker, author, and entrepreneur Laura Atchison had it all--a great career, a successful business, ambitious goals, and a loving family--when she realized she was off course. Instead of achieving the life she was meant to live, she had been stuck on autopilot--plodding through the life others wanted her to live. By failing to ask the right questions of herself and others, her life had taken the wrong direction. Explore Atchison's riveting and candid story to see the parallel struggles all women share--and the opportunities all women possess to learn and grow beyond their wildest dreams. Learn the right questions to ask in career, family, relationships, spiritual life, finances, and more. Unlock the life you were meant to have.
Get back on course, and stay there.
Begin asking different questions starting today--as a Wise Woman. If these people could have reviewed this book, this is what they might have said: Laura's on fire - Joan of Arc If I had Laura to guide me I might not have gotten lost - Amelia Earhart Maybe if we had asked how it could end differently than the others we would have kept our heads -- The Beheaded Wives of Henry VIII If I had read this book, I might not have dated Marc Antony - Cleopatra Laura's advice is as indispensable as a thimble - Betsy Ross Laura found the knowledge I was seeking - Eve.
Morgan James Publishing, 9781614483441, 190pp.
Publication Date: December 18, 2012
About the Author
Laura Atchison is a speaker, author, and founder of Wisdom Learned, LLC--a consulting company specializing in educating and inspiring entrepreneurial leaders to get off autopilot and find success. Previously, Laura used her 29+ year experience in both Fortune 100 and small businesses to launch and sell her own highly-competitive IT company--garnering her recognition and coverage from national industry publications and associations as a leading provider of managed technology services. Besides holding numerous technical degrees and serving on multiple charity and corporate boards, Laura holds a masters degree in management and organizational behavior. Her business and life philosophy gleaned from her diverse experience and lessons learned in the trenches is simple: Treat everyone better than they expect to be treated--while collecting and dispensing wit and wisdom to grow along the way. And always ask the right questions. Learn more or connect at LauraAtchison.com.