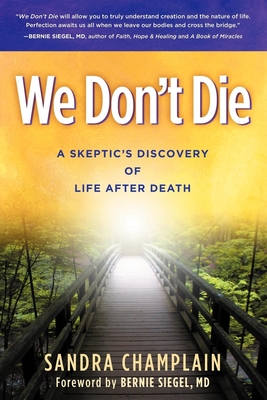 We Don't Die (Paperback)
A Skeptic's Discovery of Life After Death
Morgan James Publishing, 9781614483823, 284pp.
Publication Date: January 1, 2013
* Individual store prices may vary.
Description
If You Realized That You Could Never Die, How Would You Live Your Life?
Every second, 4 human beings are born and every 1.8 seconds, one dies. As natural as death is, dying is the most common fear that we all share. With every loss comes the most painful emotion called grief, which can cause break ups of relationships, depression and even suicide. Over 100 million suffer from grief daily, although it is a subject not often spoken of, until now.
The fear of dying led Sandra Champlain on a 15 year journey to find evidence of the afterlife. Courageously, she now shares her personal story from skeptic to believer, along with proof that our deceased loved ones can still see, hear and communicate with us. Sandra also shares new information on the how our brains function during the grieving process and provides tools that ease pain and saves lives. It is now your time to find out who you REALLY are and discover for yourself that "We Don't Die."
Discover...
* Amazing Evidence That You Will Survive Physical Death
* Your Deceased Loved Ones Are Still With You
* The Purpose Of Your Life And Why You Are Here
* How To Ease The Pain Caused By Grief
* 'Remote Viewing' And Experience Who You Really Are
* How To Create A Powerful Life and Produce Extraordinary Results

About the Author
Sandra Champlain feared dying. Having no belief in psychics or mysticism, she began a 15 year journey to calm her own fears. She uncovered undeniable evidence of our survival after death. After the death of her father, she spent 2 years studying the brain's role during grief and is committed to help people through pain and into incredible lives with this valuable new information. She is the author of "How to Survive Grief," a CD and free audio that has now been heard by thousands in 15 countries.

Sandra is a top graduate from the prestigious Culinary Institute of America. She travels the United States and Canada as chef for some of the most famous race car drivers in the world. She founded the Kent Coffee and Chocolate Company, in Connecticut in 1991. Sandra is the author of "The Law of Chocolate," and, "How to Survive Grief," an audio that has now been heard by thousands worldwide. Sandra offers products and programs to help people fulfill their dreams and lead extraordinary lives.
Praise For We Don't Die: A Skeptic's Discovery of Life After Death…
"'We Don't Die' will allow you to truly understand creation and the nature of life. Perfection awaits us all when we leave out bodies and cross the bridge." -- Bernie Siegel, MD, author of "Faith, Hope & Healing" and "A Book of Miracles".

"Life does not end when the body ceases to function. 'We Don't Die' provides inspiration and hope that we are, in fact, eternal beings, and our journey on earth serves a purpose beyond our greatest imagination." --William Gladstone, Author of the international bestseller, "The Twelve", and co-producer of the film,Tapping the Source

"Change the way you look at death and as a result you will change the way you choose to live. Sandra gives you the tools to lead an incredible life. No longer live in fear, no longer will you have to be stuck in grief. Imagine the joy of feeling free to have extraordinary relationships and produce amazing results." --Dov Baron, Author of Leading Authority on Authentic Leadership, Host & Executive Producer of The Accidental Guru Show

"Thank you, Sandra, for having the courage to publish your discovery. It's also comforting to know that your declaration is substantiated in the Bible (I Corinthians 15:26) with 'The last enemy that shall be destroyed is death.' Your research is sound and the time is NOW for us to collectively explore this subject." --Jessie Barth, Author of "B: A Capital Tale"

"Physical and mental training as well as practice is necessary to win. 'We Don't Die' provides you with the strategies you need to achieve great victories in your life." -- David Brabham, International Sports Car Racing Champion

"The journey of discovery is always a challenge, as long-held beliefs do not easily surrender to new understanding. Sandra makes perhaps your most
important journey of discovery easy with 'We Don't Die'. Sandra's story and her homework for you are designed to make that journey as enjoyable and
fruitful as possible." --Tom and Lisa Butler, Authors of "There is No Death and There Are No Dead", Directors of Association TransCommunication

"As an investigator and expert on detecting deception, the evidence in this book is clear. I've also witnessed suffering and pain my entire career. This
book is a must read for those who wish to visualize how to handle grief before they experience it." --Michael A. Coller, Private Investigator and
Author of "Seven Signs of Lying"

"Have you ever wondered how you fit into the cosmos---what life holds in store for you? 'We Don't Die' provides an entertaining and thought-provoking
glimpse into where we come from and how we can make our stay in this lifetime as fulfilling as it can be." --Jacques Dallaire, PhD. Author of Performance
Thinking

"'We Don't Die' gives you the gift of discovery, hope and healing. This beautifully written book will bring you so much peace. You are never alone and
always deeply loved." --Tamara Green LCSW, Love Mentor,(R) Relationship Coach, Speaker

"Sandra offers immense freedom, joy and possibility for the future of your life and those you love. She has created a gift for millions of people that will
impact one of life's most dire circumstances, the death of a loved one." -- Greg Hartmann, Cultural Architect, and Author of Do Due Diligence

"As a skeptic, I resisted reading this book. However, We Don't Die took me on an incredible journey that opened my eyes and heart to the possibility of
reconnecting with the love of my life, my mother. Thank you, Sandra." --Travis Lane Jenkins, Renegade Millionaire, Business & Marketing Coach

"Sandra has written a most extraordinary book, one that gently removes the veil between what we've been taught about not only death, but life as well. It
is an amazing story that shows the reader just how incredible our existence is, and how to make it even more amazing." --Jim Morack, Speaker, Coach, and Author of Learning from Life

"Sandra has managed to tackle some of the most difficult issues of death. . .and life. Page after page offers insight, wisdom, and hope." -- Dr. Karen
Sherman, Psychologist, Speaker, and Author of Mindfulness and The Art of Choice"

"There is no need to go into the waters of sorrow alone; take Ms. Champlain's hand, and she will guide you through to the other side, a better, happier person." --Ellen Snortland, Actor, Activist and Author of Beauty Bites Beast

"The continuum of consciousness has implications for all once it is truly understood. 'We Don't Die' is a foundational piece to bringing the continuum
principal to the fore." --K. Paul Stoller, MD, Author of "Oxytocin: The Hormone of Healing and Hope", Founder of GriefSOS.com

"We all have a voice in our head that either makes us successful or leads us to failure. 'We Don't Die' brings you in alignment with that voice and allows you
to change from the inside out." --Woody Woodward, Filmmaker, Author and Success Strategist