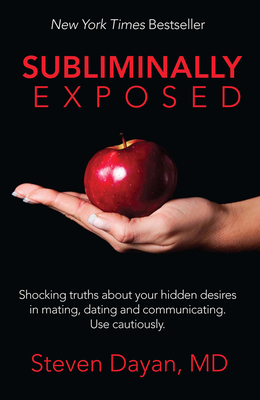 Subliminally Exposed
Shocking Truths about Your Hidden Desires in Mating, Dating and Communicating. Use Cautiously.
Paperback

* Individual store prices may vary.
Description
Beauty is raw, powerful, and often dangerous, but when refined, harnessed, and mastered, it can be incredibly influential. Just as there is a good reason why all humans find sugar to be sweet and a growling beast intimidating, there is an evolutionary logic to why our appearances allow us to communicate and manipulate each other at a subconscious level. Who you choose to mate, befriend, or work with often pivots on a few critical yet subliminal decisions made within a fraction of a second. The human brain has been evolving over 3.5 million years, and our thoughts, behaviors, and actions are rooted in a system that is evolutionary, adaptive, and unencumbered by political, social, or religious constraints. Evolution only cares about one thing: survival of our genes. Subliminally Exposed will reveal the how and why behind your actions and empower you to decode and translate others' subconscious behaviors. Learn: -What male facial feature correlates with a female achieving orgasms more quickly
-Why lips are so sexy to men
-Why being too thin turns men off, but being overweight if in the right proportions doesn't
-What male facial feature suggests he is more likely to be successful in business or unfaithful?
-Why African men like bigger behinds
-What changes in a woman's face occur when she is sexually interested
-What you can tell by a man's hands
-Why a penis is shaped the way it is
-What one factor matters most in helping a woman to get a raise at work Whether it is for political, employment, or relationship purposes, the knowledge and tools gained from the words in this book can be used for betterment or deceit. It is your choice. Regardless, be forewarned. The information you are about to read may affect every one of your relationships for better or worse in one way or another.
Morgan James Publishing, 9781614485865, 246pp.
Publication Date: June 4, 2013
About the Author
Dr. Steven Dayan, a native Chicagoan, is an internationally renowned board-certified facial plastic surgeon, frequent lecturer, physician educator, and active researcher in emerging cosmetic medicine technologies and techniques. He has published more than eighty articles in medical journals and authored four books. As a clinical assistant professor at the University of Illinois he has trained thousands of physicians worldwide. Over the years, Dr. Dayan has racked up a long list of professional accolades, including the American Medical Association (AMA) Foundation's Leadership Award and the Chicago Medical Society's Public Service Award. He has also been recognized as a "Top Doc" by numerous organizations including Castle Connolly, U.S News & World Report, and Consumers' CHECKBOOK guides. But it is in his role as an adjunct professor at DePaul University--where he teaches a wildly popular undergraduate course: The Science of Beauty and Attraction and Its Impact on Culture and Business - that this book is based. A big thinker with an insatiable appetite for deeper knowledge and understanding of human behavior, Dr. Dayan is known for his ability to challenge the status quo of his students and the conventional wisdoms of modern medicine. It's all part and parcel of his overall mission to empower individuals, businesses, and societies to better understand the how and why behind their thoughts, attitudes, and actions.
or
Not Currently Available for Direct Purchase