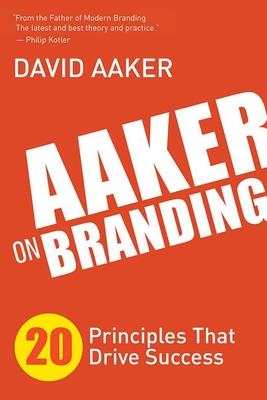 Aaker on Branding
20 Principles That Drive Success
Paperback

* Individual store prices may vary.
Other Editions of This Title:
Hardcover (7/15/2014)
Description
"Aaker on Branding" presents in a compact form the twenty essential principles of branding that will lead to the creation of strong brands. Culled from the six David Aaker brand books and related publications, these principles provide the broad understanding of brands, brand strategy, brand portfolios, and brand building that all business, marketing, and brand strategists should know.
"Aaker on Branding" is a source for how you create and maintain strong brands and synergetic brand portfolios. It provides a checklist of strategies, perspectives, tools, and concepts that represents not only what you should know but also what action options should be on the table. When followed, these principles will lead to strong, enduring brands that both support business strategies going forward and create coherent and effective brand families.
Those now interested in and involved with branding are faced with information overload, not only from the Aaker books but from others as well. It is hard to know what to read and which elements to adapt. There are a lot of good ideas out there but also some that are inferior, need updating, or are subject to being misinterpreted and misapplied. And there are some ideas that, while plausible, are simply wrong if not dangerous especially if taken literally.
"Aaker on Branding"offers a sense of topic priorities and a roadmap to David Aaker's books, thinking, and contributions. As it structures the larger literature of the brand field, it also advances the theory of branding and the practice of brand management and, by extension, the practice of business management.
Morgan James Publishing, 9781614488323, 220pp.
Publication Date: July 15, 2014
About the Author
David Aaker, recognized authority on branding, has written six books on brands and brand strategy and another twelve on related topics that together have sold well over one million copies. He developed several concepts including the "Aaker" brand vision model, branded energizers, branded differentiators, the brand relationship spectrum, and framing a category.

Aaker is the Vice-Chairman of Prophet, a brand and strategy consultancy, and Professor Emeritus of Marketing Strategy at the Haas School of Business, UC Berkeley. The winner of three career awards for contributions to the science of marketing (the Paul D. Converse Award), marketing strategy (the Vijay Mahajan Award), and the theory and practice of marketing (the Buck Weaver Award), he has published over one hundred articles and seventeen books including "Strategic Market Management" 10th edition, "Managing Brand Equity," "Building Strong Brands," "Brand Leadership" (co-authored with Erich Joachimsthaler), "Brand Portfolio Strategy," "From Fargo to the World of Brands," "Spanning Silos," "Brand Relevance," and "Three Threats to Brand Relevance." His books have been translated into eighteen languages and sold well over one million copies.

Named as one of the top five most important marketing/business gurus in 2007, David Aaker has won awards for best article in the "California Management Review" and (twice) in the "Journal of Marketing." A recognized authority on brand equity and brand strategy, he has been an active consultant and speaker throughout the world. A regular columnist for AMA's "Marketing News," he writes the Aaker on Brands blog at davidaaker.com and for the HBR.org blog.