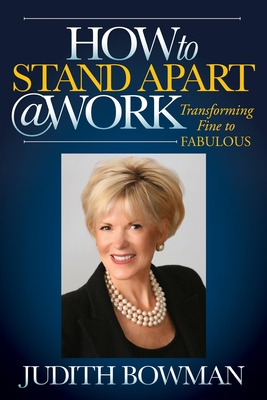 How to Stand Apart @ Work (Hardcover)
Transforming Fine to Fabulous
Morgan James Publishing, 9781614488569, 298pp.
Publication Date: March 1, 2014
* Individual store prices may vary.
or
Not Currently Available for Direct Purchase
Description
Changing jobs and even careers is commonplace today as we are immersed in the most competitive global business climate in history. As of mid-2013 there are about 12.7 million unemployed Americans and 3 million unfilled job openings. Companies have no trouble attracting large numbers of applicants, but identifying qualified candidates who not only possess the educational requirements and technical expertise, but are also the right "cultural fit"--and possess polish, professionalism, and personality--is another matter altogether.
Interpersonal communication skills are intrinsic in business and are the spark to ignite business relationships, yet ironically few teach these "people skills," and they are not found in any textbook. Given the ranking quotient for these much-sought-after interpersonal communication skills, together with the call for leadership these days, this is not only ironic but ill-fated. "How to Stand Apart @ Work: ""Transforming Fine to Fabulous "is that textbook.
The chances of landing our dream job with the firm of our choice through an Internet website or an ad in the local community newspaper are remote. Most agree that the way we identify and land the position we really want is through other people we know. "How to Stand Apart @ Work: ""Transforming Fine to Fabulous " provides the tools to cultivate relationships, reignite and expand our network of connections, and fortify our business lifelines.
"How to Stand Apart @ Work: ""Transforming Fine to Fabulous "takes everyday business situations and reveals how to leverage them as standalone opportunities to show respect, earn respect, and demonstrate that you know how to lead, motivate others, and advance in your career. The polished professional will know how to confidently navigate the business landscape not just here in the United States but anywhere in the world.
About the Author
Judith Bowman is an educator, author, syndicated journalist, and internationally recognized authority on business etiquette and international protocol. Enlightened by twenty years of face-to-face sales and marketing encounters, revelations, and "faux pas" from her work in corporate America, Bowman launched her consulting business in 1992. She counsels Fortune 500 professionals, political leaders, and royalty. Her first book, "Don't Take the Last Donut "(The Career Press), is sold in twelve countries, translated into ten languages, and featured on the recommended reading list of Fortune 500 firms, educational institutions, and leading motivational life coaches.

Bowman has earned and now provides protocol certification, including Train the Trainer programs. She is a graduate of Boston College and attended Harvard University. She authored a weekly etiquette column for the Pulitzer Prize-winning Eagle Tribune Publishing Company that was syndicated throughout New England for ten years, and she hosted a weekly television segment on New England Cable News for four years. She has written articles for "Forbes, CFO," "Newsweek, ""CNN Everyday Money," "Business Week," "Boston Business Journal," "Los Angeles Times," "Boston Globe," "Boston Herald," and other media outlets.
Advertisement