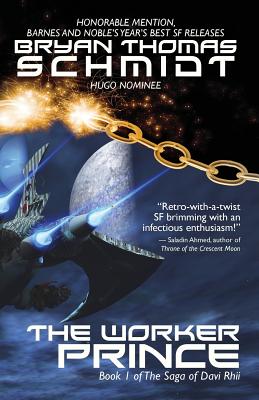 The Worker Prince (Paperback)
Wordfire Press, 9781614753612, 316pp.
Publication Date: October 14, 2015
* Individual store prices may vary.
About the Author
Bryan Thomas Schmidt is a critically praised author and Hugo-nominated editor of adult and children's speculative fiction. His debut novel, The Worker Prince received Honorable Mention on Barnes & Noble Book Club's Year's Best Science Fiction Releases for 2011. His short stories have appeared in magazines, anthologies, and online. His anthologies as editor include Shattered Shields (2014) with co-editor Jennifer Brozek, Mission: Tomorrow (2015), Galactic Games (forthcoming), Little Green Men--Attack! (forthcoming), and Monster Hunter Tales with co-editor Larry Corriea (forthcoming) all for Baen, Space Battles: Full Throttle Space Tales #6 (2012), Beyond The Sun (2013) and Raygun Chronicles: Space Opera For a New Age (2013) as well as Joe Ledger: Unstoppable co-edited by Jonathan Maberry for St. Martins Griffin (forthcoming 2017). From 2010 to 2015, he hosted #sffwrtcht (Science Fiction & Fantasy Writer's Chat) Wednesdays at 9 pm ET on Twitter as @SFFWRTCHT.