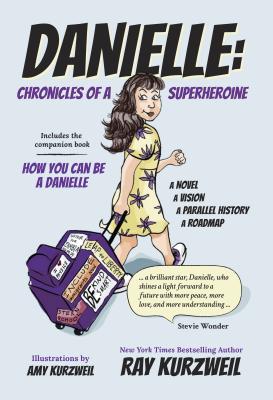 Danielle
Chronicles of a Superheroine
Hardcover

* Individual store prices may vary.
Other Editions of This Title:
Digital Audiobook (4/22/2019)
Description
USA Today Top 150 Best Seller
Publishers Weekly Best Seller

Ray Kurzweil, legendary inventor and author of New York Times bestsellers The Singularity is Near and How to Create a Mind, has created inventions and ideas that have changed human civilization. PBS called him "One of the revolutionaries who made America," and Inc. magazine name him "Edison's rightful heir."

Now Kurzweil has created a novel and an unforgettable character-Danielle-to help convey some of his most important ideas. Danielle: Chronicles of a Superheroine, tells the story of a precocious young girl who uses her intelligence and accelerating technology to solve humanity's grandest challenges. Now if only we can find more courageous visionaries like Danielle.

Written as an alternative history, Danielle's journey as a driven young girl brings her face to face with many important figures from recent history and our modern world. Told through the eyes of Danielle's equally remarkable sister Claire, a girl adopted from Haiti after surviving the earthquake, this story shows all readers a hopeful vision of humanity's future-and how to achieve it.

The novel features 24 graphic novel-style illustrations, one for each year of Danielle's life, by New Yorker cartoonist and Ray's daughter, Amy Kurzweil (author of Flying Couch: A Graphic Memoir, a New York Times Editor's Pick and Best of 2016).

Accompanying the novel are two nonfiction companion works by the author, which is a literary first. Included in this volume is How You Can Be A Danielle, bound in the same volume as the novel, is a call to action, providing pragmatic, thought-provoking and clear guidance on how readers can be inspired to emulate Danielle and help bring about a better world. A separate volume, A Chronicle of Ideas: A Guide for Superheroines (and Superheroes) provides Kurzweil's-and Danielle's-unique spin on 282 concepts presented in the novel. A Chronicle of Ideas is sold separately. See DanielleWorld.com for more information.
A Chronicle of Ideas and How You Can Be a Danielle are available to read for free on DanielleWorld.com.
Wordfire Press, 9781614756392, 472pp.
Publication Date: April 23, 2019
About the Author
Ray Kurzweil is one of the world's leading inventors, thinkers, and futurists, with a thirty-year track record of accurate predictions. Called "the restless genius" by The Wall Street Journal and "the ultimate thinking machine" by Forbes magazine, he was selected as one of the top entrepreneurs by Inc. magazine, which described him as the "rightful heir to Thomas Edison." PBS selected him as one of the "sixteen revolutionaries who made America." Ray was the principal inventor of the first CCD flat-bed scanner, the first omni-font optical character recognition, the first print-to-speech reading machine for the blind, the first text-to-speech synthesizer, the first music synthesizer capable of recreating the grand piano and other orchestral instruments, and the first commercially marketed large-vocabulary speech recognition. Among Ray's many honors, he received a Grammy Award for outstanding achievements in music technology; he is the recipient of the National Medal of Technology, was inducted into the National Inventors Hall of Fame, holds twenty-one honorary Doctorates, and honors from three U.S. presidents. Ray has written five national best-selling books, including New York Times best sellers The Singularity Is Near (2005) and How To Create A Mind (2012). He is Co-Founder and Chancellor of Singularity University and a Director of Engineering at Google heading up a team developing machine intelligence and natural language understanding.