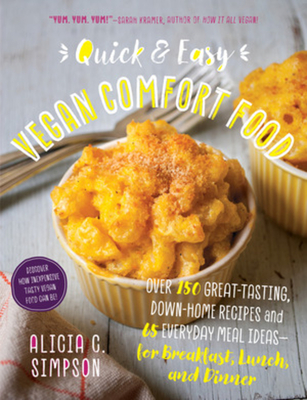 Quick and Easy Vegan Comfort Food (Paperback)
Over 150 Great-Tasting, Down-Home Recipes and 65 Everyday Meal Ideas--For Breakfast, Lunch, and Dinner
Experiment, 9781615190058, 228pp.
Publication Date: October 6, 2009
* Individual store prices may vary.
Description
A born food-lover, raised in California on "the best Mexican food in the country" and her father's "traditional Southern soul food," Alicia C. Simpson couldn't imagine giving up her favorite dishes to become vegan. Animal-free food might be healthier, but could it match the tastes of home--like fried chicken, macaroni and cheese, or a bowl of chili? Three years after Alicia took the vegan plunge,
Quick and Easy Vegan Comfort Food
answers that question with a resounding "yes " Here is the essential cookbook for any of America's more than 6 million vegans who miss the down-home tastes they remember (or want to try), or for vegetarians and even meat-eaters who want to add more plant-based foods to their diets, but don't know where to start. Comfort-seeking cooks will find:
Easy-to-prepare, animal-free versions of classics like Spicy Buffalo Bites, Ultimate Nachos, Baked Ziti and more
65 delicious combinations for breakfast, lunch, and dinner, with flavors from around the world, like "Chinese Take-In" or "Tijuana Torpedo"
Everything you need to know to start your vegan pantry, and why being vegan is easier, less expensive, and more delicious than you might think.
With spirit and style, Alicia shows just how easy--yes, and comforting--vegan food can be.
Praise For Quick and Easy Vegan Comfort Food: Over 150 Great-Tasting, Down-Home Recipes and 65 Everyday Meal Ideas--For Breakfast, Lunch, and Dinner…
Yum. Yum. Yum!"
Sarah Kramer, co-author of How It All Vegan
Quick and Easy Vegan Comfort Food is filled with accessible, invigorating recipes. Alongside simple preparation instructions are cooking tips and suggestions for pairings with other dishes in the book . . . Beautiful full-page color photos illustrate these delectable combinations . . . Simpson's unpretentious recipes provide vegan simplicity, and her enthusiasm for cooking is infectious . . . Quick and Easy Vegan Comfort Food delivers on all counts."
Brittany Shoot, Feminist Review blog
With Quick and Easy Vegan Comfort Food, Alicia Simpson shows the budding vegan cook how simple it can be to whip up delicious, cruelty-free creations in the kitchen with common ingredients. The easy-to-follow recipes, creative meal ideas, and cook's tips are sure to inspire you to get cooking!"
Leigh Saluzzi, co-owner of Cosmo's Vegan Shoppe
Alicia C. Simpson's book is a wonderful entrée into the world of vegan cooking for those who are just getting acquainted with what veganism has to offer, as well as those on a tight budget. Quick and Easy Vegan Comfort Food educates readers about yummy plant-based sources of protein, calcium, and ironas well as how easy, cheap, flavorful, and quick it is to make healthy vegan snacks, smoothies, and dishes. This book is a must for those who have always thought going vegan' is intimidating, complicated, expensive, and time-consuming."
A. Breeze Harper, editor of Sistah Vegan: Black Female Vegans Speak on Food, Identity, Health, and Society
Quick and Easy Vegan Comfort Food has made it possible for us to enjoy many of the classic comfort foods we once enjoyedfavorites such as Mac and Cheeze, Collard Greens, and Sweet Potato Pie. Guess what though? It is all vegan!"
Traci Thomas, founder of the Black Vegetarian Society of Georgia
I love this book! As a vegetarian for over twenty-four years, I know the amazing benefits of a vegan diet for the person and the planet. I love how Alicia shares personal insights and delicious Southern-inspired recipes, making veganism easy and accessible to the masses. From the section on Vegan Myths' all the way to the decadent vegan desserts that remind me of mother's cooking, Quick and Easy Vegan Comfort Food has something for everyone. The world is changing and consciousness is rising. People are searching for a more compassionate way of living, but may not know where to start. Alicia's book is a must-have and will be a permanent part of my cookbook collection. I highly recommend it to all of my readers!"
Martha Theus, 21st Century Vegetarians blog, and co-author of Throwin' Down" Vegetarian Style!