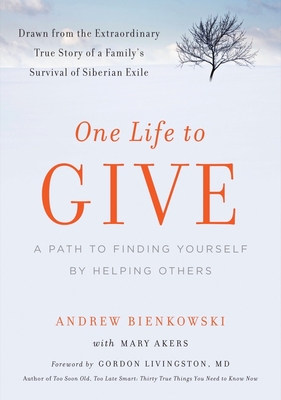 One Life to Give (Paperback)
A Path to Finding Yourself by Helping Others
The Experiment, 9781615190089, 240pp.
Publication Date: January 12, 2010
* Individual store prices may vary.
Description
Find Yourself by Helping Others—Life Lessons from an Extraordinary Story of Sacrifice and Survival

In the winter of 1939, five-year-old Andrew Bienkowski was exiled to Siberia with his family. The two years of struggle that followed—especially his grandfather's amazing act of sacrifice during their first long, cold winter—have informed the rest of Andrew's life. Thanks to his devoted mother, his quick-witted grandmother, and the unexpected kindness of strangers, Andrew established an approach to life that emphasizes helping others as the essential path to finding our greatest human fulfillment.
About the Author
Andrew Bienkowski, a veteran of the U.S. Air Force who served in the Korean War, worked as a psychologist for 40 years, including 32 years for New York state, designing and implementing mental-health programs and working directly with patients. This is his first book. He lives near Buffalo, New York.
Mary Akers's fiction, poetry, and non-fiction have appeared in many journals and anthologies. She is the author of a short story collection, Women Up On Blocks, from Press 53. Although raised in the Blue Ridge Mountains of Virginia, which she will always call home, she currently lives in western New York.
Praise For One Life to Give: A Path to Finding Yourself by Helping Others…
"What we make of the adversities with which life inevitably confronts us determines whether we have anything useful to say to those who follow us. Andrew Bienkowski passes the test with this extraordinary story of his childhood exile to Siberia and the lessons he learned there about loyalty, perseverance, gratitude, and love."—from the foreword by Gordon Livingston, MD

"Reading this book is truly a gift to oneself—a profound and riveting experience that kept me up into the late hours following a journey both immensely provocative and transformative. Andrew Bienkowski gives fully of himself in this book with a power that brings forth a spirit of healing so important at this time in our world. I'm already recommending this to everyone I know."—Stephan Rechtschaffen, MD, co-founder, Omega Institute and Blue Spirit Costa Rica

"I was touched by this story of courage and sacrifice, blended with gems of wisdom reflecting the author's many years as a psychotherapist. I found myself highlighting many excellent points throughout its pages."—Dan Millman, author of Way of the Peaceful Warrior

"One Life to Give is a compelling and heartwarming saga that will inspire, uplift, and move you to appreciate your loved ones and consider what you can contribute rather than get. Andrew Bienkowski brings a lifetime of experience as a soulful therapist to his account, and for that I am deeply grateful. Anyone who values family, or feels disconnected from loved ones, would benefit immensely from this extraordinary book and the powerful, practical lessons it bestows."—Alan Cohen, author of Linden's Last Life

"Like Viktor Frankl's 1946 classic Man's Search for Meaning, this book has a keen eye for spotting the best of human spirit and endeavor in the most trying of circumstances."—ForeWord magazine

"Shows the importance of hope and community. It is a definite light for dark times."—Western New York Catholic